FOUR: THERE'S LOTS OF GOOD SMITHS IN THE SEA
"SFA" stands for the Smith Family Archives, assembled and transcribed over many years by Leanna Lois Claudia Smith, daughter of Alonzo; her great-nieces Mellie Morris Smith (daughter of Herbert Gustavus) and Gertrude Fairchild Smith (daughter of Maurice Leigh); and great-great-niece Mildred Aileen Nash (neé Mellie Agnes Smith: daughter of Francis See).

"DSN" stands for correspondence with Doris Dolores Smith Norman, webmaster of the site http://users.moscow.com/dnorman/, excerpts from which are represented below and in the next chapter as ~archl, ~arch2, ~arch3, ~arch/ancestors, ~smith/jesse, ~smith/jessewill, ~smith/jerome, and ~smith/eugene.

Internet sources are indicated by tildes (e.g. ~internet). A complete list can be found on the Sources page. Due to the transient nature of Internet entries, only a few hyperlinks will be provided to outside webpages; such as ~a (www.ancestry.com), ~f (www.familysearch.org), ~g (www.findagrave.com), and ~w (www.worldvitalrecords.com). The United States Federal Census records for 1850 through 1940 cited below are available at ~a (except for 1890's, which was badly damaged in a 1921 fire and later quietly destroyed).

S-1A Josiah's Family
● Smith vs. Smith: Josiah over Peter (and Jerome)
According to the SFA, the husband of Susannah Lafferty and father of her sons was Peter Smith: born Apr. 21, 1802 in Old Columbia near the village of Cincinnati, Hamilton County OH; the son of Samuel Smith and Elizabeth McCleve. This genealogy was accepted by several generations till 2003, when the present author discovered ~freepages/smith, a profusely annotated website devoted to Peter Smith's family. It revealed that he had been born on Aug. 21, 1802 (instead of April); the son of Samuel Smith and Elizabeth McCleave (instead of McCleve); and the husband of Phoebe Judy—whom he married on Feb. 9, 1825 in Clark County OH. This discovery felt like catching an ancestor in a breach of promise, given that Susannah Lafferty's wedding day was a mere ten weeks later: Apr. 20, 1825, in Clermont County.
In 2003 the date and location of Susannah's wedding were agreed upon by ~archl and ~worldconnect/smith; also that Susannah's husband came from New Jersey. ~archl called the groom Josiah Smith; ~worldconnect/smith called him Jerome Smith (as quite a few webgens still do); neither indicated he was in any way related to Peter Smith (1802-1884), son of Samuel Smith (1778-1856), son of the Rev. Peter Smith (1753-1816), son of Hezekiah Smith (1714-1801)—all of whom and many more are documented in great detail by ~freepages/smith.
The 1858 Clinton County Land Record transcribed in the next chapter confirms that Josiah Smith was Susannah's husband and father of her sons; ~a's Marriage Records of Clermont County, Ohio, 1800-1850 (volume 2, page 119) verifies that Josiah and "Susan Lafferty" were married on Apr. 20, 1825 by Isaac Covalt JP. And in 2008 DSN tracked down Josiah's parents and siblings: as documented in ~smith/jesse and supplemented by ~sever, ~union, and ~guineapike.

● The Benevolent Father of All
Jesse Smith Sr. and his wife Elizabeth Conover were born in New Jersey: Jesse on July 26, 1769 and Elizabeth on June 15, 1778. According to ~sever, Jesse "was a carriage and wagon maker, also a carpenter." He and Elizabeth had six children who lived to adulthood:
* George C. Smith: born c.1798 in New Jersey
* Sarah Smith Mount Sever: born Sep. 3, 1801 in New Jersey
* Garret Smith: born June 10, 1805 in New Jersey
* Josiah Smith: born c.1806 in New Jersey
* Lydia Smith: born c.1815/20 in Ohio
* Jesse Smith Jr.: born c.1817 in Ohio
New Jersey's early censuses were destroyed in the War of 1812, so the family's Garden State roots remain conjectural. No connection can be found to the ~freepages/smith clan, other than both families having been Smiths who left New Jersey for southwest Ohio. In 1807 Jesse Smith brought his wife and four older children to Cincinnati; there "he worked at his trade till about 1811, when he removed to Clermont County, Ohio, and bought a farm near Goshen" (~sever).
Click here to see a Wikipedia map of Clermont County, and here to see an 1875 map. A Jesse Smith served as one of three judges of the 1824 election in Goshen Township; this according to ~goshen, a Nov. 26, 1879 article in the Clermont Sun boasting that:
Our fathers ... were more equal in fortune, in birth and education, and as a neighborhood assimilated in manners, customs, habits and tastes to a greater degree than any other of the Ohio settlements. They came originally from the best families of New Jersey, Pennsylvania, Maryland, Virginia and Kentucky, with abundant energy and physical vigor, substantial, practical agriculturists, unambitious of professional or political promotion or individual notoriety, singularly straight-forward in their objects, and prompt in all their duties and in meeting every obligation...
This township is, in proportion to its area and population, the wealthiest in the country, and is noted for its magnificent hay and grass farms. [Goshen] village is unincorporated and being free from all rowdyism or disorders, requires no municipal systems or officers to preserve the quiet of the town... In no other town in our knowledge is there such universal prosperity as here.
Small wonder they named it after the Land of Milk and Honey.
Jesse Smith Sr. and Elizabeth Conover Smith ended up in Miami Township's Old Guinea Pike Cemetery (later renamed Union Cemetery) like Chapter S-1's Archibald and Mary See Lafferty and two of their daughters. As with the Laffertys, photos of the Smith gravestones are available online. Click here to see Elizabeth's, which is unfortunately discolored and/or worn away. Luckily ~guineapike fills in obscurities, giving us the full inscription: "IN memory of ELIZABETH Consort of Jesse Smith, who departed this life Sept. 23rd 1838, aged 60 Years 3 Months and 8 Days." (Meaning she should have been listed as a "Female/50s," not "40s," in the 1830 census below.)
On Apr. 7, 1842, her widowed husband set his hand and seal to a will that DSN provides in full at ~smith/jessewill:
In the name of the Benevolent Father of all, I, Jesse Smith Sen. of the County of Clermont Ohio do make and publish this my last will & testament.
Item 1st: I give and devise to my son Jesse Smith, Jr. all that certain farm wheron I now reside in Goshen township and County and State aforesaid on condition that he pays to his Brothers and Sisters the sum of one thousand dollars in three years from the time of my decease in manner following. To wit: One fourth part to my son Josiah, one fourth part to my son Garret, one fourth part to my daughter Sarah Sever and one fourth part to my daughter Lydia Smith.
Item 2nd: I devise and bequeath all my money and personal property at the time of my decease (after paying my just debts and burial expenses) as follows, to wit: one fourth part to my son Josiah, one fourth part to my son Garret, one fourth part to my daughter Sarah Sever and one fourth part to my daughter Lydia Smith.
Item 3rd: To my son George C. Smith who has already had his portion, I give and bequeath the sum of one dollar. I do hereby revoke all former wills by me made.
Click here to see Jesse Sr.'s two-piece gravestone at Union Cemetery. It reads: "In memory of JESSE SMITH, sr. Who departed this life, Sept. 22, 1842 AGED 73 yrs, 1 mo, 27 ds."
On Nov. 1, 1842, Jesse's will was brought before "the Honorable A. Fishback, president Judge of the tenth district Circuit Court of the State of Ohio and Samuel Hill, George McMahan and Elijah Larkin, assistant Judges of the Court of Common Pleas" in Batavia, seat of Clermont County. Since the will named no executor, "on motion of Josiah Smith by his council, it was ordered that Letters of Administration be issued."

The first available census of Goshen Township is 1820's, where three Smiths are listed as heads-of-household: Jesse, John, and Mahlon. Jesse and John reappear in 1830, along with Calvin, Elias, Garret, and Josiah Smith. 1840 finds Jesse Sr. and Jesse Jr. and just plain Jesse, plus Elias, Ephraim, Garret, George C., John, Samuel C., and William Smith—while Josiah Smith shows up in neighboring Miami Township.
~smithbrickwalls, a website that valiantly set out to extract past Smiths from a variety of 19th Century archives, wisely advised that "names are subject to interpretation. Check various spellings. Always check original documents." ~clermont/1820gifs allows us to do that with the first available census, albeit at the cost of eyestrain; in the sample to the right (from page 56) we can make out the names of John, Jesse, and Mahlon Smith—but good luck determining some of the others.
1820
MALE

FEMALE

engaged in
agriculture
engaged in
commerce
engaged in
manufacture
< 10
10 - 16
16 - 18
18 - 26
26 - 45
45+
< 10
10 - 16
16 - 26
26 - 45
45+
John
1
1
0
1
0
1
0
1
0
0
1
2
0
0
Jesse
1
1
1
2
0
1
1
1
0
1
0
3
0
1
Mahlon
1
0
0
0
1
0
1
0
1
0
0
1[?]
0
1
Original images of all extant federal censuses are provided by ~a. Page 297 of Goshen Township's 1830 census lists five Smiths in a row:
1830
MALE

FEMALE

< 5
5 - 10
10 - 15
15 - 20
20s
30s
40s

50s

60s
70s
< 5
5 - 10
10 - 15
15 - 20
20s
30s
40s

50s

60s
70s
Garret
2
1
1
Jesse
1
1
1
1
1

1

Josiah

3 [?]

1

1

John

1

1

1

Elias
1
1
1
1

1
(Though sometimes transcribed as "Jonah," the original image clearly shows "Josiah" below the old-fashioned spelling "Jefse." See Chapter S1-B for a question concerning the entry-placement of Josiah's figures.)
On page 139 of Goshen Township's 1840 census, Elias Smith is followed by John, then by an indecipherable name (not a Smith), and then by Jesse Sr., Jesse Jr., and Garret:
1840
MALE

FEMALE

< 5
5 - 10
10 - 15
15 - 20
20s
30s
40s

50s

60s
70s
< 5
5 - 10
10 - 15
15 - 20
20s
30s
40s

50s

60s
70s
80s
Elias
1
1
1
1
1
1
John
1

1

Jesse Sr.
1
Jesse Jr.

1

1
Garret
1
2
1
1

1
Five pages further on we find Samuel C. followed by "just plain" Jesse, then by Andrew Hill (not a Smith), and then by Ephraim (transcribed as "Ephrain"):
1840
MALE

FEMALE

< 5
5 - 10
10 - 15
15 - 20
20s
30s
40s

50s

60s
70s
< 5
5 - 10
10 - 15
15 - 20
20s
30s
40s

50s

60s
70s
Samuel C.
1
1
1
2
1
Jesse
2

1

1
Ephraim

1

2
1
With 1850's census we start to see dependents, ages, birthplaces, occupations. A total of 48 Smiths live in Goshen Township, ranging from 79-year-old John to two-year-old "Windfield S." All but eight of them belong to the households we've been tracking above, headed by New Jersey natives or their sons:
John Smith [Sr.] (born c.1771 in NJ) has yielded top spot to John Smith [Jr.] (born c.1810 in OH: a farmer), though old John still holds onto the family's $3,000 in real estate. With them live John Jr.'s wife Frances L. Smith (born c.1817 in NY) and their six Ohio-born children: Mary J. Smith (born c.1836), Albert Smith (born c.1838), Austin Smith (born c.1841), Anne E. Smith (born c.1843), Caroline Smith (born c.1845), and John Smith [III] (born c.1847).

Near them lives Elias Smith (born c.1797 in NJ: a farmer with $2,000 in real estate) with his wife Elizabeth Smith (born c.1806 in PA) and their Ohio-born children: Samuel Smith (born c.1828: also a farmer), Amanda Smith (born c.1831), Oliver Smith (born c.1833: also a farmer), and Elizabeth Smith (born c.1839).

Further away is the amalgamated household of Samuel C. Smith (born c.1808 in NJ: a shoemaker) and his wife Louisa Smith (born c.1807 in NJ: unable to read or write), who a year earlier took in the orphaned children of Louisa's sister Mary Smith and her husband, "just plain" Jesse Smith; their story will be related momentarily.

Listed right after Samuel C.'s household is his son John C. Smith (born c.1828 in NJ: also a shoemaker) and John C.'s married-within-the-past-year wife Elizabeth Smith (born c.1831 in OH).

Three households further down the page is Ephraim Smith (born c.1812 in NJ: a blacksmith, living up to his surname) and his wife Frances Smith (born c.1812 in OH), their Ohio-born daughters Anne E. Smith (born c.1836) and Louisa C. Smith (born c.1838), plus 20-year-old blacksmith William Windsor.

The late Jesse Smith Sr.'s sons George C. Smith and Jesse Smith Jr., plus their wives and Jesse Jr.'s three children, will be considered later in this chapter. George C. is listed directly after Elias Smith's household, while Jesse Jr. appears on the following page. (Their brother Garret Smith has moved to Miami Township; Josiah Smith has gone on from there to Clinton County OH, as is recounted in Chapter S-1B.)
Given this cluster of Jersey Boys, we may speculate whether or not they were all related. Certainly some were: we're told—by ~bowlby, ~bowlby/meltingpot, and ~bowlbyfamily—that two of Thomas and Hannah Bowlby's daughters each married a Smith in Mansfield Township, Warren County NJ (which was created out of Sussex County, New Jersey's northernmost, in 1824):
Louisa Bowlby (born Apr. 4-6, 1806) and Samuel Conover Smith (born Aug. 15, 1806: his middle name "based upon Smith Bible records") were married on Nov. 26, 1826. They had four children in New Jersey—John Calvin Smith (born Sep. 20, 1827: the newlywed "John C." in 1850), Mary Smith (born c.1829, died age four c.1833), Jesse W.I. Smith (born c.1833: initials transcribed as "W.E." in 1850), and Margaret Smith (born Apr. 20, 1835); followed by three more in Ohio—Charlotte Smith (born Mar. 21, 1840); Emma Louisa Smith (born Mar. 13, 1843); and Clara Smith (born Oct. 1, 1846).

Louisa's sister Mary Bowlby (born June 2, 1808) married Jesse Smith (born Mar. 23, 1813) on Nov. 28, 1833. They had seven children: George Whitfield Smith (born Aug. 20, 1834, died Mar. 1835), an unnamed son (born/died 1836), Alfred Kenneth Smith (born Oct. 6, 1837), Aquila Brown Smith (a son, born Feb. 5, 1840: name transcribed as "Aquilla" in future censuses), Syren Smith (a daughter, born June 5, 1842: name transcribed as "Loren" in the 1850 census), Mary Louisa Smith (born Mar. 23, 1845), and Linda Etta Smith (born Jan. 14, 1847). All seven may have been born in Ohio; the last five definitely were.
Given the children's birthyears, it's not unreasonable to suppose that c.1837 was when Samuel C. and "just plain" Jesse brought their families to Goshen Township, Clermont County OH. There Mary Bowlby Smith died Sep. 23, 1849 and her husband Jesse two days later. Their two sons and three daughters were raised by Aunt Louisa and Uncle Samuel the shoemaker—who must have done a lot of cobbling just to keep them and his own children from going barefoot in winter.
~bowlby wonders if the late Jesse Smith could have been the son of Jesse Sr. and Elizabeth Smith in Goshen Township. He wasn't; but Samuel C.'s middle name of "Conover" does suggests some degree of kinship. Similarly, it's not impossible that Jesse Sr. and John [Sr.] were brothers or that Elias was John's son, all of them coming together to Ohio in 1807. Ephraim could have been a brother of Samuel C. or ill-fated Jesse (or both) and accompanied them and their Bowlby wives—drawn, perhaps, by encouraging letters from Smith uncles who'd emigrated a generation earlier—to Clermont County in the mid-1830s.
Such letters might have been mailed even if they weren't all blood kin. We may suppose that some (if not most) of these Smiths and Conovers hailed from the same starting point: Mansfield Township in Warren (< Sussex) County on New Jersey's northwest border. This is also the eastern edge of the Lehigh Valley, which spreads westward to Allentown and Bethlehem in Pennsylvania Dutch country. Click here to see a Wikipedia map of Warren County, and here to see one of Mansfield Township: founded in 1754, it's a ridge-and-valley region along the Musconetcong River, a tributary of the Delaware.
One cautionary note before we decide that all the Smiths in Goshen Township must have been cousins: just a few miles to the southeast in Williamsburg Township lived another Ephraim Smith (born Sep. 2, 1797 in Monmouth County NJ) who was descended from the New Jersey Conover family via his maternal grandmother. Maddeningly, this connection was discovered in the all-encompassing ~conover webgen—which lacks entries for ANY of Goshen's Smiths or Bowlbys, including Elizabeth Conover and Samuel Conover Smith.
A minibiography of Jesse Smith Sr. and Elizabeth Conover Smith's eldest daughter, Sarah Smith, appears on page 1,130 of the History of Clinton County (Beers & Co., 1882) and can be read at ~sever. Born Sep. 3, 1801, Sarah married Elijah Mount (another native of New Jersey) on Dec. 9, 1819; the wedding was conducted by Mahlon Smith JP (as per ~a's Marriage Records of Clermont County, Ohio). ~sever mentions only one child (a "son—Jesse, now deceased, left two sons—David and Albert") but Sarah and Elijah also had a daughter, born Ellen Rebecca Mount circa 1820. Elijah died Apr. 14, 1831 and the widowed Sarah remarried on Aug. 29, 1833 to Job Sever, a fellow Methodist. He evidently adopted Sarah's daughter, who appears in future censuses as "Ellen R. Severs" (1850), "Rebecca Sever" (1860), "Ellen Sever" (1870), and "Ellen R. Seever" (1880)—living with her mother throughout.
Straightforward as ~sever is, some doubts about dates are raised by other sources. ~f includes a Family Group headed by Samuel and Patience Mount of East Windsor, Mercer County NJ, who moved to Warren County OH by 1818. The youngest of their ten children was Elijah Mount, born Dec. 26, 1793; he is said to have died in Warren County OH on Apr. 15, 1821—one day short of a decade prior to ~sever's deathdate.
~jobsever states that Job Sever was the fifth child of Joseph John Sever (born Apr. 22, 1759 in Burlington County NJ) and Patience Taylor (born Feb. 2, 1765). Job was born in Evesham Township, Burlington County NJ on Sep. 15, 1794. His family moved in 1809 to a farm on Todds Fork Creek near Edwardsville, Harlin Township, Warren County OH. There Patience died Feb. 26, 1827 and Joseph followed on Aug. 17, 1847; both were buried in Edwardsville Cemetery. Job Sever married Elizabeth Dunham (born Aug. 14, 1800) on Feb. 27, 1820; she died in Nov. 1820, and Job married Sarah Smith Mount on Aug. 29, 1833.
The flaw in both ~f and ~jobsever's accounts is that Job's son Joseph Sever was born in Warren County OH in 1823—according not only to future censuses, but his own son Preston's biography (presented below). So, either:
* Job's first wife Elizabeth did not die in 1820, and was Joseph's mother; or—
* Job married a second wife (Joseph's mother) between 1820 and 1823, and she died by 1833; or—
* ~sever is wrong and ~f's correct about Elijah Mount's dying in 1821 rather than 1831, enabling Sarah to marry Job and produce Joseph by 1823.
Adding to the last option's likelihood is Elizabeth Gillespie (of whom more in a moment) having been born in 1827, the "daug of J & S Sever." ~sever does say that Job and Sarah had a total of eight children, of whom only four were alive in 1882. Those four were Joseph (by then farming in Illinois), Harriet (born July 1829—again belying ~sever's marriage year), Mary J., and George L. (born Nov. 1840). So we may conclude that Sarah Smith Mount Sever was the mother of six children who lived to adulthood:
* Jesse Mount (died by 1882: father of Albert E. Mount and David J. Mount)
* Ellen Rebecca Mount Sever (born c.1820)
* Joseph Sever (born June 9, 1823)
* Elizabeth Sever Gillespie (born Apr. 19, 1827)
* Harriet Sever Rhonemus (born July 1829)
* Mary J. Sever Fulton (born Dec. 1835)
* George Lewis Sever (born Nov. 15, 1840)
In March 1848 the Severs purchased 82 acres near Clarksville in Clinton County's Vernon Township (of which see more in Chapter S-1B). Sarah's brother Josiah Smith had moved here in 1845; the two families are listed only three households apart in the 1850 census, where we find:
* Job Severs [sic] (aged 58), born in New Jersey, $2,180 in real estate
* Sarah Severs (aged 47), born in New Jersey, $1,640 in real estate
* Ellen R. Severs (aged 28), born in Ohio
* Harriet Severs (aged 20), born in Ohio
* Mary J. Severs (aged 15), born in Ohio
* George L. Severs (aged 10), ditto
Job Sever died June 29, 1856 and was buried with his parents in Warren County's Edwardsville Cemetery (as per ~jobsever). In the 1860 census Sarah heads the following Vernon Township household:
* Sarah Sever (aged 58), born in New Jersey, $2,000 in real estate and $450 in personal estate; cannot read or write
* Rebecca Sever (aged 41), Ohio-born, $500 in personal estate
* George Sever (aged 20), Ohio-born, occupation farmer, $500 in personal estate
* Desdemonie Gillespie (aged 11[?]: transcribed as "Desdemoria Gillspie"), Ohio-born, attending school
* Milton Smith (aged 30), Ohio-born, occupation farm laborer
~jobsever sheds welcome light on Desdemonie by noting that "[Edwardsville] Cemetery records show Elizabeth Gillespie daug of J & S Sever d Nov 6, 1855 age 28-6-17 buried next to father." This would mean Elizabeth Sever was born Apr. 19, 1827 and married a Mr. Gillespie before 1850, when her presumed daughter Desdemonie [Desdemona?] Gillespie was born. After Elizabeth's death (and her father Job's the following June), Desdemonie lived with her grandmother Sarah. Regrettably, nothing more can be discovered about her. (Nor is there any indication whether farmhand Milton Smith was any relation to Sarah, or simply one of the Vast Legion of Smiths.)
Harriet Sever[s] married farmer Andrew Rhonemus on Feb. 1, 1855 in Clinton County OH. Andrew was born Sep. 9, 1828, son of Jacob Rhonemus (1781-1835) and Hannah Sophia Cluster (1794-1868). He and Harriet had three children: Lucian/Lucien A. Rhonemus (Mar. 24, 1856—Feb. 8, 1939; married Mary A./L. Lappe [Oct. 30, 1858—June 21, 1943]); Wilber/Wilbur K. Rhonemus (Mar. 22, 1858—Sep. 8, 1918: married Mary E. Heiser [1859-1947]); and Emma Rhonemus (Nov. 26, 1866—June 24, 1936). The Rhonemus family lived in Vernon Township in 1870 and Clarke Township in 1880. Andrew died aged 70 on Sep. 23, 1898 and was buried in Martinsville IOOF Cemetery (as per ~g). In 1900 the widowed Harriet headed a Richland Township household consisting of daughter Emma; the census shows both of Harriet's parents had been born in New Jersey, which would confirm she was in fact Job and Sarah's daughter. In 1910 Harriet and Emma lived with Lucian and Mary Rhonemus, still in Richland Township; by 1920 this household had moved to Union Township. Harriet Sever[s] Rhonemus died aged 90 on Mar. 12, 1920. (As per ~harrietsevers.)
Mary J. Sever (born Dec. 1835) married Theodore I./J. Fulton aka T. I. Fulton (born Jan. 1834 in Ohio: father from Maryland, mother from Ohio) in Clinton County OH on Jan. 29, 1856 (as per ~f). For many years they lived in Lynchburgh Village, Dodson Township, Highland County OH. From 1862 to 1864, Theodore served as a lieutenant in the 2nd Ohio Cavalry's M company (as per ~a's 1890 Veterans Schedule). The 1870 census finds his family near the Hillsborough post office:
* Theodore Fulton (aged 39), occupation dry goods clerk, $1,000 in real estate, $550 in personal estate
* Mary J. Fulton (aged 34)
* Clarence Fulton (aged 13), at school
* Robert E. Fulton (aged 10), at school
* Horace Fulton (aged 8), at school
* Jessie Fulton (aged 5), at home
* Albert Fulton (aged 3), at home
* Francis Fulton (aged 1), at home
* Amelia Dorety (aged 24), domestic servant
1880's census gives us the following:
* T. I. Fulton (aged 46), occupation salesman
* Mary J. Fulton (aged 44), occupation housekeeping
* Clarence R. Fulton (aged 23), occupation salesman
* Robert E. Fulton (aged 21), occupation dry goods clerk
* Horace I. Fulton (aged 19), occupation blacksmith
* Jessie M. Fulton (aged 16)
* Albert G. Fulton (aged 13)
* Frank Q. Fulton (aged 11)
* Emma Farr (aged 21), servant, occupation housework
* Wilmer Dynes (aged 16), nephew [T.I.'s or Emma's?]
By 1900 the Fulton household has dwindled to Theodore (aged 66, a general insurance agent), Mary J. (aged 64), and youngest son Francis Q. (aged 31, a restaurant keeper). Of the other Fulton children, six are still living; from the censuses above and ~g we may list them as Clarence Rothwell Fulton (Dec. 20, 1856—Oct. 19, 1902), Robert E. Fulton (born c.1859-60), Horace I./J. Fulton (born c.1861-62), Jessie M. Fulton (the lone daughter, born c.1864-65), Albert G. Fulton (born c.1867), and Francis Quinn Fulton (born Apr. 1869, died 1910). The latter continues to live with his parents in 1910, when 76-year-old "Theodor I." has an illegible occupation, while 74-year-old Mary J. and 40-year-old Francis Q. have "none." Both the 1880 and 1900 censuses claim Mary J.'s father was born in New Jersey, but her mother came from England. By 1910, however, this romantic birthplace has devolved to "Pennsylvania." Mary J. Sever Fulton died aged c.75 in 1910 and was buried in Lynchburg Masonic Cemetery; Theodore joined her there in 1912.
~sever mentions that George L. Sever served three years in the Civil War; ~a's database of U.S. Civil War Soldiers confirms he was a sergeant in Company I of the 79th Ohio Infantry. Organized in July 1862, this regiment campaigned in Kentucky and Tennessee, then took part in the siege of Atlanta, Sherman's march to the sea, and the Battle of Bentonville, mustering out in June 1865. During those three years, the 79th lost over 1,000 men "from all causes" (as per ~79th).
In 1870 Sarah (aged 68) and Ellen (aged 50) are living by themselves near the Wilmington post office. Sarah now has $3,240 in real estate and $300 in personal estate; her occupation is "keeping house" and Ellen's is "lives with sister" [sic]. That same year, "Geo. L. Sever" (aged 29) has relocated to Compromise Township, Champaign County IL, where he lives with wife Massa "Minnie" Cole (born May 1839, daughter of Gregory Cole from North Carolina and Elizabeth [surname?] from Ohio) and their 8-year-old son Edwin Sever (transcribed as "Edmund"). By 1880 George is back home in Clinton County OH, farming the family's Vernon Township homestead along with another farm of 160 acres. His house contains two households, both transcribed as "Seever": one is George (aged 39), Minnie (aged 40), and Edwin (aged 18); the other is Sarah (aged 78: occupation keeping house) and Ellen R. (aged 62), whose status of "daughter" heavily overwrites the original entry.
According to ~f, Edwin S. Sever married Jennie Kearns in Clinton County OH on Dec. 31, 1885. Neither can be found afterward, and indeed the 1900 census of Vernon Township's Clarksville Village shows George L. Sever (aged 59: "no occupation") and Massa Sever (aged 61) as having zero children, zero living (both fields apparently erased). Massa/Minnie died before 1910, when George Sever (aged 68: "own income") lives in Clarksville with second wife Margaret [surname?] Sever (1851-1912). According to ~a's Ohio Deaths database and ~g, George Lewis Sever died in Preble County (on the Indiana border, north of Butler County) on Nov. 18, 1926, having just turned 86. He and second wife Margaret were buried in Clarksville Cemetery, whose records inexplicably show George as "s/o Jobe [sic] and Sarah (Hewitt) Sever."
As mentioned by ~sever, George's older brother Joseph Sever was a farmer in Illinois. His first head-of-household appearance is in 1850, as a 27-year-old carpenter in Hamilton Township, Warren County OH (with an erased figure for real-estate-owned); with him is wife Elizabeth Sever (aged 24: née Elizabeth Clinton, born May 28, 1826). In 1870 they live near the Woodhull post office in Clover Township, Henry County IL, near the Iowa state line:
* Joseph Sever (aged 47), Ohio-born, occupation farmer, $7,500 in real estate and $1,800 in personal estate
* Elizabeth Sever (aged 42), Ohio-born
* Preston Sever (aged 9), Iowa-born
* Hezikiah Brown (aged 16), Iowa-born, occupation farm laborer
By 1880 the Severs moved a few miles north, to Henry County's Andover Township. That year's census says 57-year-old Joseph's father was born in New York and his mother in New Jersey. With Joseph are "Elisabeth" Sever (aged 54) and Preston L. Sever (aged 19, "student at college"). The latter's career led him to page 312 of ~history/iowa: A Memorial and Biographical Record of Iowa (Chicago: The Lewis Publishing Co., 1896), whose fulsomeness is worth quoting in full:
COLONEL PRESTON L. SEVER, a prominent attorney of Stuart, Iowa, who has won distinction at the bar by a skill and ability that has made him a place in the front rank of the legal profession, claims Iowa as the State of his nativity. He was born in Warren county, in the town of New Virginia, March 18, 1861, a son of Joseph and Elizabeth (Clinton) Sever. His father was a contractor and builder in early life and through industry and enterprise won a considerable capital, which he invested in land. He then retired from work at his trade and gave his attention to the superintendence of his extensive landed interests. He was born in Warren county, Ohio, 1823, and his wife was born in the same county in 1826. They were married in their native State and in 1849† emigrated to Warren county, Iowa, where they lived for four years. In·1863 they went to Illinois, becoming residents of Cambridge, Henry county, which was their place of abode until 1885, when they came to Stuart, Iowa. Here the father died January 30, 1894, while the mother lives in the family of our subject. In connection with him she owns about one thousand acres of valuable farming land in the vicinity of Stuart.

Colonel Preston L. was their only child. He was educated in the city schools of Cambridge, Illinois, and was graduated at the high school at that place with the class of 1879. The same fall he entered the collegiate department of the Iowa State University, completing the classical course in 1883. Following his graduation he entered a law office in Cambridge, pursuing his studies there until admitted to practice in the district court of Scott county, Iowa, May 27, 1884. On the 7th of October following he was admitted to practice in the supreme court of the State, and as a mark of special distinction Colonel Sever also holds a certificate of qualification as a practicing attorney in the supreme court of the United States of America. This was granted on the 22d of April, 1892. Mr. Sever received another mark of distinction in 1886 in the granting, by the Iowa State University, of a diploma with the degree of Master of Arts, his former degree having been Bachelor of Science. He is a man of marked ability as an attorney and orator, a clear, concise and forcible speaker, logical reasoner and an earnest advocate. He came to Stuart in 1885, and at once 'ft. [sic] began practice which he continued alone until 1890, when he formed a partnership with C. W. Neal, Esq., which continued until December, 1894. It was then dissolved by mutual consent, Mr. Neal forming a partnership with his son, while Colonel Sever again opened an office of his own. He has an elegant suite of rooms, supplied with a very fine law library, and is enjoying an extensive and constantly increasing practice.

Colonel Sever also demonstrated a marked military character, in that he was the prizewinner of the State of Iowa on competitive drill. He takes quite an active part in political affairs and has three times served as a member of the State executive committee of three who managed the Republican campaign. His oratorical ability makes his services in demand as a political speaker and he is a valued worker in his party. He was for four years a member of Governor Larrabee's staff, holding the rank of Colonel, and has been prominently identified with every movement calculated to enhance the interest of his county or State. The lady who now bears the name of Mrs. Sever was in her maidenhood Miss Fanny Mann, a native of Guthrie county, Iowa. She was educated in the Lake Forest University, of Chicago, and their marriage was celebrated in Ontario, California, in 1889. The Colonel is very prominent in social circles and is one of the leading members of the Masonic fraternity in the State. He is a member of Token Lodge, No. 304, A. F. & A. M.; Damascus Chapter, No. 97, R. A. M.; Alhambra Commandery, No. 58, K. T.; Des Moines Consistory, No. 3; and has attained to the thirty-second degree of the Scottish Rite. He was president of the Board of Directors at the time of the construction of the Masonic Temple of Stuart, the magnificent structure which was erected at a cost of more than $23,000. Colonel Sever is a practical man of affairs. In addition to his other business interests, he is a director of the First National Bank of Stuart, and his capable management and executive ability have won him prosperity.
As noted, Joseph Sever died aged 80 on Jan. 30, 1894 and was buried in Oak Grove Cemetery, Stuart Township, Guthrie County IA; ~g shows a birthyear of 1828, but the gravestone clearly displays 1823. His widow Elizabeth died aged 70 on Dec. 3, 1896; their son Preston died aged 68 on Jan. 31, 1929, and his wife Fanny (born Nov. 20, 1859) followed aged 88 on Dec. 27, 1947; all were buried in Oak Grove.
Preston's grandmother, Sarah Smith Mount Sever, died aged 83 on Dec. 22, 1884 in Clarksville OH; her daughter Ellen Rebecca Mount Sever followed on Jan. 29, 1894, aged 74 (both as per ~f).
The SFA erroneously claimed that Jesse Smith Sr. was the brother of Susannah Lafferty's husband "Peter"; but correctly identified Garret Smith as Jesse Sr.'s son. According to ~f and ~smith/jesse, Garret married Amanda Hustin (born c.1808 in New York) on Sep. 1, 1825 in Hamilton County OH. Garret died Feb. 25, 1882, and an obituary in the SFA reads:
[He] was born in New --- [sic] June 10, 1805. In 1807 his father moved to Cincinnati. In 1811 they removed to Goshen, Clermont County, Ohio. Garret Smith was married to Amanda Huston [sic] of Cincinnati September 1, 1825... They have two sons living, J.D.M. Smith and George W. Smith and [an] adopted daughter, Mary L. Smith. Garret Smith has been in the employment of the C.C. and W. Turnpike as gatekeeper since 1849... The Company very kindly retain his widow in their employ. Garret Smith was a member of the Christian Church at Newberry since 1842 and was an active worker in the Union Sabbath school at Mount Repose.
1879's ~goshen notes that "Goshen is most pleasantly situated on the old and excellent Cincinnati, Columbus and Wooster turn-pike, in the center of the most northern township bordering on the Quaker county of Warren." ~turnpikes tells us the Cincinnati, Columbus and Wooster Turnpike was incorporated in 1828; a decade later it ran for 22 miles from Cincinnati through Milford to Goshen, with five toll gates on the road and a sixth on the bridge over the Little Miami.
In the 1840 census Garret and Amanda appear to have three sons and a daughter. By 1850 the Smiths have moved from Goshen to Miami Township, and George W. Smith (born c.1835) is the only child still at home; he in turn has left by 1860, when Garret and Amanda have been joined by their adopted daughter Mary Smith (born c.1846: birth father from Indiana, birth mother from Germany). Garret's real estate holdings—meager compared to those of his farming brothers—grew from $600 in 1850 to $840(?) in 1860 to $1,100 in 1870, by which time Garret's family had returned to Goshen Township. As late as 1880 Garret (then aged 75, two years before his death) was a working toll gate keeper, assisted by daughter Mary.
Jefferson Davis MaGill [McGill?] Smith, son of Garret and Amanda, was born in June 1826. The 1860 census shows him (as "J.D.M.") living near Morrow post office in Washington Township, Warren County OH; with him is Elizabeth C. Smith (born Dec. 1825, both parents from Pennsylvania). J.D.M. served in the Union Army through the Civil War, as per ~ohwarren/military—presumably reducing his name "Jefferson Davis" to initials. ~a's 1890 Veterans Schedule says he was a sergeant in Company A of the 79th Ohio Infantry (same regiment as his cousin George L. Sever), serving from Jul. 28, 1862 to June 9, 1865. In the 1880 census he is back in Washington Township as "Jefferson D.M. Smith" (occupation huckster), with wife Elizabeth and 14-year-old Anna D. Smith. She is gone by 1900, when grandson Ira M. Kimbrough (born Sep. 1886 in Ohio) lives with Jefferson D.M. (aged 73, father from New Jersey, mother from New York) and "Elisabeth C." (aged 74). J.D.M. died in 1911 and was buried as "Jefferson Davis MaGill (J.D.M.) Smith" in Warren County's Bethany Church Cemetery (as per ~ohwarren/cemetery).
His brother George W. Smith is less easy to track. A man of that name (born c.1826-28) lives near Clermont County's Amelia post office in 1860, and works as a shoemaker near Williamsburg post office in Clermont's Tate Township in 1870 and 1880. His wife is listed as Sipy A. Smith aka Sarah A. Smith (born c.1837/38); with them in 1880 is four-year-old son Leslie Smith. The only reasons to doubt that this George W. Smith was Garret's son is the latter's being only 15 in the 1850 census; and the 1880 census saying both of his parents came from in New Jersey.
Newbury, Mulberry, and Mount Repose—the sites of Garret Smith's religious endeavors—are located in Miami Township and can be seen in the 1875 map below. Also in Miami Township is Epworth Heights, founded as the 40-acre Cincinnati Camp Meeting Grounds in 1874. Thousands of Methodists attended these camp meetings, some of which lasted a week or more, to hear the preaching and have their souls saved (as per ~miamitownship). 1879's ~goshen sounds its own trumpet on this subject:
In the eastern part of the township is the 'Shilo Camp Meeting Ground,' which well indicates how the Methodist Church has kept onward pace with the great march of civilization... As is well illustrated out in the woods at this popular 'Camp Ground,' where the Methodists at their annual meeting feel a little of the traditional fervor of their honorable sect stirring in them. Here you find 'the good old Methodist hand-shake,' and something in the hearty clasp speaks of a sincere good will that is decidedly pleasant, and here the stirring old hymns of the days of Wesley echo through the woods, making it, as it were, a kind of rich martial music. There is no doubt but that the intense excitement of this Camp-meeting partakes largely of animal magnetism or extreme nervousness, but there is equally no doubt but that the mystic element of Divine grace is there and performs a godly work...

~a's Marriage Records of Clermont County, Ohio reports that the Rev. George Gatch married Jesse Smith Jr. to "Doil, Rebecca An." [sic] on Sep. 6, 1840 (~f says Sep. 18th). The surname "Doil" doesn't appear in Ohio censuses before 1850 (and even then is restricted to a single family in Fayette County, two of whose members are transcribed as "Coil"); it does however crop up occasionally in North Carolina, where the bride's parents came from. Even the conventionally-spelled "Doyle" is a rare commodity in Clermont County; so we will give its Marriage Records the benefit of the doubt and accept that Jesse Jr.'s wife was born Rebecca An. Doil in Ohio, to two North Carolinians, in July 1822.
The 1850 census shows Jesse Jr. as a Goshen Township farmer with $3,000 in real estate; he and Rebecca have three children, Joseph D. Smith (born c.1842), Martha C. Smith (born c.1845-46), and Winfield S[cott?] Smith (born Mar. 1848: "Windfield" in the 1850 census). Ten years later Jesse's holdings have grown to $8,000 in real estate and $1,100 in personal estate, and Rebecca has produced a fourth child: Jefferson Allen Smith (born Mar. 1854). Eldest son Joseph is gone by 1870, when Jesse owns $14,000 in real estate and $1,200 in personal estate. (His first name in the 1870 census is transcribed "Jespe"; on the handwritten original it looks like "Jesper" with the R erased.) Martha, Winfield, and Jefferson all still live with their parents in 1880. By 1900 Jesse Smith Jr. has died, and the widowed Rebecca heads the household in "Goshen Township (North Half)." With her live Winfield and "J. Allen Smith," both farmers.
~g shows "JESSE SMITH / 1817-1899" and "REBECCA A. SMITH / 1822-1909" buried in Greenlawn Cemetery, Milford, Clermont County OH. Also buried there is Martha C. Smith Teal (1845-1929), wife of Henry Clay Teal (1850-1927). The 1900 Goshen ownship census gave Martha a June 1847 birthdate and c.1883 marriage to farmer H. Clay Teal; they had no children. 1910 and 1920's census also show Martha as born in 1847 or '48, but acknowledge she was at least five years older than her husband.
Two Winfield S. Smiths lived in Clermont County in 1860 and 1870; the other one, a year older than our Winfield, was the son of Abel S. and Elizabeth Smith in Batavia Township, and in 1870's census he has a wife Annie Smith (born c.1849). There being two Winfields makes it difficult to determine which one appears in future censuses. A widowed farmer whose first name is written "Windfield" and transcribed "Wurdfield" resides in Goshen Township in 1910; twenty years later a "Winifield" Smith, aged 82, lives alone on Goshen Township's Loveland Pike. (Of course either or both of these might be completely different members of the Vast Legion of Smiths, many of whom were named after General Winfield Scott in the mid-19th Century.)

● Branch Hill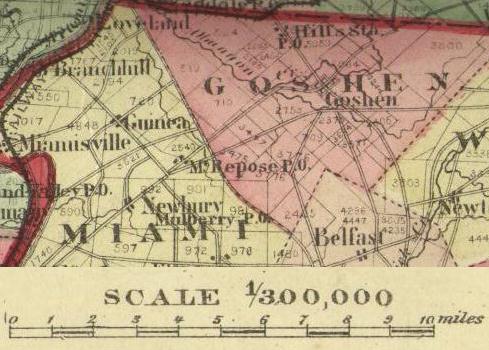 In the 1860 census, Garret Smith lives in Miami Township near the Branch Hill post office (established 1847); "Branchhill" appears in the upper left corner of the 1875 map to the right. The same post office is also listed for all the Smiths in Goshen Township to the east: Garret's brothers George C. and Jesse Jr., their possible cousins John [Jr.] and Samuel C. and Ephraim, plus the late Elias Smith's survivors. (Although the map shows a P.O. at Hill's Station just north of Goshen, that was not established till 1871; as per ~hillst.)
Not much can be discovered about George C. Smith, Jesse Sr. and Elizabeth's eldest child, other than his having married Sarah C. (Sally/Sallie) [surname?] who was born c.1803-04 in Vermont. Their wedding does not appear in ~a's Marriage Records of Clermont County. If George and Sarah had any children, all were gone by 1840. By 1850 George was a farmer with $1,800 in real estate, which by 1860 had grown to $2,500 (with $100 in personal estate). In both the 1860 and 1870 censuses his two-person household is separated from brother Jesse Jr.'s by John Smith [Jr.]'s. By 1870, George C. Smith is a "retired farmer" with $4,160 in real estate and $75 in personal estate; Sallie C. Smith continues "keeping house." Neither can be found in 1880.
Jesse Sr. and Elizabeth's daughter Lydia Smith is unlocatable in any census; at least not by that name. This implies she either married or died (or both) after being mentioned in Jesse Sr.'s 1842 will. (Two Lydia Smiths do appear in the Marriage Records of Clermont County, but both prior to 1842.)
On July 8, 1863, General John Hunt Morgan led a Confederate cavalry brigade across the Ohio River in a daring raid. They crossed the Little Miami on July 14th, attacked and burned a military train midway between Branch Hill and Miamiville (aka Miamisville). Morgan was captured on July 26th, but escaped from the Ohio Penitentiary in November and made his way back to Confederate lines. Yet he was never again trusted by General Braxton Bragg, who had ordered him not to cross the Ohio River. Although Morgan's Raid caused widespread panic and would be the furthest penetration north by Confederate troops, the capture of his brigade was a serious blow to Southern morale following the losses at Vicksburg and Gettysburg. Morgan himself was killed in Tennessee in 1864. (As per ~littlemiami.)
Colonel John H. Branch laid out the community of Branch Hill on 102 lots in 1873. It became a popular residential suburb for those commuting to Cincinnati on the Little Miami Railroad—although one train struck and killed Cincinnati Enquirer editor George Manor Davis Bloss in 1876, and Colonel Branch himself suffered the same fate a year later. Branch Hill's post office closed in 1933, and today the community remains unincorporated south of Loveland. (As per ~littlemiami and ~miamitownship.)
Josiah Smith was the first of his family to leave Goshen Township, taking Susannah and their children (who will be considered in Chapter S-1B) a few miles southwest to Miami Township sometime in the 1830s. This is an appropriate place to let 1879's ~goshen pay its brand of tribute to the past:
It is a sad thought that the early pioneers are fast passing away, and soon not one will remain to tell us of the early homes in the wilderness. If the beautiful and fashionably dressed young ladies and lasses, and the strong and enterprising men and boys of our readers will believe us, the early settlers were clad in home-spun and home-made linen and woolen apparel. Who is so ignorant as not to have heard of flax patches where half the courting was one in olden times, and when the flax got ripe all the boys and girls gathered far and near and pulled and spread it. It was called a frolic, which ended with a regular "hoe-down, double-shuffle dance." After the fiber, softened by the dews and rains, which was called "rotting the flax," it was taken up and bound, and either stacked or broken on a machine called a brake, then spun on a wheel and runoff on a reel and woven on a loom. The winter garments were mostly made from wool, spun on the small and big wheel. The mother who could not take care of her children, do the cooking, washing, ironing, and attend to other household duties, and spin her twelve cuts of yarn a day, was not considered extra smart. After the yarn had been spun, it had to be dyed and prepared for the loom, and some would be dyed a copperas color, and some blue, brown, green and red—the more fastidious and tasteful wearing stripes and checks. Spinning, quilting, apple-peeling and wool-picking frolics were all the rage in the good old days when a woman was a woman, and false teeth, face powders and other counterfeits to deceive the rough sex were unknown.

Our grand-mothers, like the daughters of Eve had a taste for a variety of colors and beauty of combination, and in those halcyon days the fair sex attired themselves in dresses of their own making, spinning, coloring and weaving. They used but six yards of linen or linsey, instead of from fifteen to forty as do the modern belles of the period. They made young men bow as low and smile as sweetly as do the ladies of our time in the cities with their rustling silks, satins and muslins. They could ride to a quilting on an ox-sled or on a "sapling-jumper," and dance merrily to the music of a single fiddle, and such dancing! A real double-shuffle, in which there were grace, activity, life, spirit, and the genuine poetry of action, with none of your sliding, languishing, die-a-way notions of the belles that flirt in the fashionable, modern drawing or ball room. When the dance was over they could walk home a distance of five or ten miles, unless their beaux (and they all had beaux, and some of them a score or more) had a horse with saddle and pillion, when they would mount a stump or climb upon the fence, and spring on the horse behind the rider and ride home. If they were engaged to be married and the day fixed, she would clasp her plump, well-muscled arm around him, he clasping one hand in his. How all the young men enjoyed riding over hills and rough places as it made your sweet-heart clasp to you, and how the heart swelled and beat as one felt the electric squeeze of the angelic creature by starry moonlight. Girls were then scarce and in demand as the young men outnumbered them two to one. We fear the gentler sex has not improved in health and true unalloyed happiness since those days of innocent romps and jollity, though they may have extended their skirts from two feet to twelve, and we are of the opinion that their sleep is no sounder nor their dreams more pleasant than those of their grand-mothers.

Let us take you, in imagination, to one of the log cabins of olden times, probably many miles from the nearest neighbor, built in the midst of a grand old forest. They were built one story high, with a loft or garret for the boys to sleep in, which was reached by inserting their toes in the openings between the logs in one corner of the house, or on a rude ladder made of a straight sapling of linden wood or poplar, split into halves, with rungs for steps, making it convenient to draw up or for its removal from the cabin. A small hatch-way was left in the upper floor or a window cut in the gable for ingress and egress, and the process of mounting the ladder was called "cooning it to bed." This department was the storeroom for trophies of the chase of the traps, antlers of deer and elk, and skins of the bear, panther, wolf, fox, raccoon, mink and rabbit, together with the holiday or Sunday apparel of the family. It also served the purpose of drug-store, and around the walls and pendant from the roof in sacks and bunches were sarsaparilla, ginseng, snake-root, catnip, tansy, garlic, sage, dog-fennel and pennyroyal, and mayhap a bottle of bitters—the pioneer's medicine—a kind of root doctor.

Spring-time brought work—spinning and weaving the summer linen, and rising in the morning at four, the lady of the house built the fires, made up her own beds, awoke and dressed the children, made up the trundle-bed, shoved it under the "big bed," put on the teakettle and mixed the Indian meal for the johnny-cakes and corn-dodgers. This done she prepared the frugal meal and set the table, after which she blowed a merry peal on the tin horn to call the men to breakfast. Next she nursed the baby, but that could be done while she was knitting the socks and stockings. The men came in. She must spring up, lay the sweet smiling little baby in the cradle, one loving kiss, a short "God bless you, my darling," sets the victuals on the table, "jogs" the cradle with her foot each time passes to keep the baby quiet, the self-rocking cradle being the invention of a later day. Breakfast over, the dishes put away, the children sent to school, she spindled the linen on the grass and now spinning is resumed. She takes the wheel out on the puncheon floor, takes her darling babe from the cradle and while her foot is busy with the treadle it serves as a motion to quiet the little beauty. While singing and musing, she can sing right merrily too "Home Sweet Home," my own home, be it ever so poor, is home. But it is time to prepare dinner and greens must be picked, potatoes washed, meat put on to boil and venison or bear meat to be broiled or baked, and if the husband is a good shot a turkey is swung up before the large fire-place to broil. Then down to the wheel or into the loom banging away as she sends the swift flying shuttle through the double-threaded web. The horn is again blown, the victuals taken up and the meal is eaten with the baby on the lap. The pewter dishes washed and put away the floor must be scrubbed, for she has no carpet, and the bleaching cloth is to be watered again. Then back to the wheel till time for supper, which over, she goes to the pasture to milk the cows, put the children to bed and takes again to the ever busy wheel until the husband retires to his couch. She must stop now, for he does not like the buzzing noise, but no bed comes to her relief yet for the children's clothes are to be mended, stockings darned, and thus she toils on until late in the night, and such was the life led by many of our mothers and grand-mothers. We will add that these scenes so feebly narrated here have passed, and in a few years more those who have participated in them will have become pioneers to another country, and be then followed by a ceaseless stream of emigrants from this changing world.
Before we get wholly carried away by this ceaseless stream, let us remember the beginning of Ambrose Bierce's memorable horror story, "The Boarded Window":
In 1830, only a few miles away from what is now the great city of Cincinnati, lay an immense and almost unbroken forest. The whole region was sparsely settled by people of the frontier—restless souls who no sooner had hewn fairly habitable homes out of the wilderness and attained to that degree of prosperity which to-day we should call indigence than, impelled by some mysterious impulse of their nature, they abandoned all and pushed farther westward, to encounter new perils and privations in the effort to regain the meagre comforts which they had voluntarily renounced...


Notes

† Joseph and Elizabeth Sever's move from Warren County OH to Warren County IA did not take place till after Ohio's census was enumerated on Sep. 11, 1850.
● Peter Smith and Phoebe Judy's children included an Alonzo Smith (1834-1912), whose name might have triggered the longstanding yet erroneous SFA belief that Peter Smith (son of Samuel Smith and Elizabeth McCleave) was the father of our Alonzo C. Smith; however, Peter's son was born in Summerford, Madison County OH.
● In ~arch/ancestors and ~smith/jerome, Susannah Lafferty and Josiah Smith married on Apr. 20, 1826.
● ~myohiogenealog reports that of Ohio's 1810 censuses, only Washington County's survives; the rest were burned in the War of 1812. An 1810 tax list for Clermont County is available at ~clermontindex/1810, but isn't divided by township and includes only nine Smiths (Adam, Amos, Christian, Dennis, Esther, Joseph, Michael, Stephen, and William).
● ~smithbrickwalls, which drew upon marriage records and land patents as well as censuses, includes a Joseph, Robert, and Solomon among Goshen Township's Smiths in 1820.
● ~union's gravestone photos were fittingly provided by a Pamela Smith of the Clermont County Genealogical Society, which has undertaken the herculean task of photographing every marker in all the county's cemeteries.
● Hezekiah Smith was born 1714 in Hempstead, Long Island. He relocated to the newly-created Sussex County NJ by 1753, when he joined the First Baptist Church of Wantage and was baptized in the Wallkill River (and his son Peter Smith was born). Hezekiah held various county and Newton Township offices before moving to Piscataway NJ, a few miles northeast of New Brunswick, in 1779; there Hezekiah died in 1801. Peter Smith's eldest son Samuel was born in Princeton NJ in 1778. Starting c.1780, Peter took his family through the South; but unwilling to raise children in a slave state, he brought them to Old Columbia Township on Duck Creek near Cincinnati in 1794. Soon afterward he was ordained as minister of Columbia's Old Baptist Church and there led "a great revival" in 1801. That same year the Rev. Peter officiated at the wedding of his son Samuel to Elizabeth McCleave. In 1805 he led the family up the Miami Valley to Donnels Creek, a branch of the Mad River west of present-day Springfield OH. Both the Rev. Peter and his father Hezekiah were "Indian doctors," practicing Native-style medicine with roots and herbs. In 1813 Peter published The Indian Doctor's Dispensary, Being Father Smith's Advice Respecting Diseases and Their Cure; Consisting of Prescriptions for Many Complaints; and a Description of Medicines, Simple and Compound, Showing Their Virtues and How to Apply Them (Cincinnati: Brown and Looker). Its posthumous introduction calls Peter "a devout Baptist of the old school" (and claims he was born not in New Jersey but Wales). The Rev. Peter Smith died in 1816 and was buried on his Mad River farm; his wife Catherine died in 1851 at the Donnelsville home of her son Samuel, who in turn died in 1856. His wife Elizabeth McCleave had died in 1849. (All as per ~freepages/smith.)
● Besides the Rev. Peter, Hezekiah Smith had four other children: Timothy Smith (born 1736), Esther Smith (born c.1745-46), Hezekiah Smith [Jr.] (born 1755), and Samuel Smith (born 1759). They and their offspring were all accounted for in Hezekiah's will, and (so far as we can tell) none of the Smiths who ended up in Clermont County's Goshen Township were among them.
● According to ~freepages/smith2, Samuel and Elizabeth's son Peter Smith—the one who didn't marry Susannah Lafferty—would "conceive the idea of graded schools" and successfully petition the Ohio Legislature to institute them. He went on to be elected Surveyor of Lawrence County IL, appointed by Abraham Lincoln as Assessor of Illinois's 11th Congressional District, and enjoy a venerable old age in Sumner IL before dying Sep. 10, 1884. (Other websites give Peter's deathyear as 1881/82.) His wife Phoebe Judy was born in 1808 in New Harmony Township, Greene County, Ohio, dying in 1869 in Richland County IL (as per ~roots/phoebejudy).
● Could Mahlon Smith have been related to Jesse and/or John Smith? As justice of the peace, he performed Sarah Smith's wedding to Elijah Mount in 1819; his name appears only two lines after Jesse's (and four after John's) in the 1820 census. ~mosher reports that on June 26, 1817, a Mahlon Smith married Rachel Hutchinson (born 1800 in Mercer County NJ) in Clermont County; there in 1830 Rachel's older brother John Merrick Hutchinson would marry Deliah Smith (born 1801 in Monmouth County NJ). On the other hand, a presumably different Mahlon Smith (son of Israel Smith) married Hannah McMains in Clermont County on June 20, 1817: as per ~f and ~monjar (while ~jahrn says this wedding also took place on June 26th).
● For whatever reason, Jesse and Josiah Smith's names are preceded by check marks (the only ones such on that page) in the 1830 census.
● The Ephraim Smith in Williamsburg Township was the son of William Smith (born 1772 in Monmouth County NJ, died 1864 in Clermont County OH) and Lucretia Johnson (1773-1855); her mother was Elizabeth Longstreet Johnson (born c.1755/57), great-great-great-granddaughter of the Conover family patriarch Wolphert Gerretse van Kouwenhoven (1579-1662). Ephraim-of-Williamsburg-Township married Amanda White in 1821 and had ten children, at least six of whom were born in Clermont County OH. Ephraim died there on May 13, 1854. (All as per ~conover.)
● Wolphert Gerretse van Kouwenhoven emigrated to New Amsterdam c.1624-25. Though his many descendants eventually tended to spell the family surname "Conover," there are countless variations such as "Covenhoven"—e.g. the Lydia Covenhoven who in 1803 married Josiah Van Meter, son of Elizabeth "Betsy" Burns and Abraham Van Metre [Jr.] (see Chapters B-1 and B-2).
● Sarah and Elijah Mount's son Jesse could not be found in any census. In 1870 an Albert Mount (born Nov. 1846) and David Mount (born c.1849-50) are living together near the Maineville post office in Hamilton Township, Warren County OH; both are farmers, and Albert has a whopping $20,000 in real estate and $1,000 in personal estate. Both would remain in Hamilton Township, with separate but sometimes neighboring households.
● Albert E. Mount's wife was Mary C. (or E. or K.) Mount (born 1853, married 1874); their children were Florence E. Mount (born 1879), Edward William Mount (born Apr. 1880), Frank H. Mount (born Jul. 1883), and Velma I./J. Mount (born Aug. 1891). By 1910 the 63-year-old Albert's occupation is "own income," and his son Edward is running the farm.
● In 1880 David J. Mount has a wife, Larilla Mount (born c.1863), a son, Jessie A. Mount (born Nov. 1873), a daughter, Minnie P. Mount (born c.1876), and a six-month-old daughter whose name (Mamie? Maisie?) is blotted. Missing from the 1900 census, David returns in 1910 (he too with "own income") plus second wife Alice Mount (born c.1865, married 1897) and daughter Miriam Mount (born 1899); she would marry Charles Gibbs (born 1892). David's son Jessie A. Mount is a 26-year-old farmer boarding next door to his uncle Albert in the 1900 census.
● ~sever mentions that Job and Sarah Sever's homestead in Vernon Township was originally settled by Clinton County pioneer Jonathan Lawrence in 1806.
● Lucian/Lucien A. Rhonemus, a farmer like his father Andrew, married Mary Lappe (whose parents were German-born) on May 14, 1889; they had no children. Between 1910 and 1920 they moved from Clinton County's Richland Township to Union Township; in 1930 they and Lucian's sister "Emily" lived in Fayette County's Washington Township. Wilbur/Wilber K. Rhonemus, a lawyer, married Mary E. Heiser in 1896; they lived in Middletown, Butler County OH and had one child who had died by 1900. Wilbur died in 1918 and was buried in Middletown's Woodside Cemetery; Mary joined him there in 1947.
● ~jenkins-mummert implies that Mary J. Sever[s] married Salmon Reid Jennings (1832-1882: son of Sherwood Jennings and Flavilla Reid) in 1863, and that they had four children in Lexington, Scott County IN : Sherwood Jennings (born 1862), Rena Olive Jennings (born 1865), Tivis/Tevis B. Jennings (born 1869), and Rhoda A. Jennings (born 1872). However, the 1880 census states that while Mrs. Mary Jennings was born in Ohio c.1835, her parents had both been born in Massachusetts rather than New Jersey.
● In 1900 a Clarence R. Fulton, clothing merch[ant?] born Dec. 1856 in Ohio, is living in a Wichita KS boarding house. In 1900 a Robert E. Fulton, salesman born Oct. 1859 in Ohio, is living in Anderson City IN with his wife Catherine A. Fulton (born Jun. 1860, married 1883), and their children Edna Fulton (born Oct. 1883), Mary Louise Fulton (born Apr. 1897), and Robert T. Fulton (born Jul. 1899). In 1910 a Horace Fulton, hat store proprietor born c.1862 in Ohio, is living in New York City with wife Anna Fulton (born c.1875) and sons Wilbur Fulton (born c.1888) and Leroy Fulton (born c.1890). In 1900 an Albert Fulton, farmer born Mar. 1866 in Ohio, is living in Dover, Mason County KY with wife Lydia M. Fulton (born Jan. 1866, married 1890), their daughter Bettie F. Fulton (born Oct. 1892), and two boarders; by 1910 the Fultons have added daughter Alberta Fulton (born c.1903) and moved to Bracken County KY. (Any or all of the preceding might be children of Theodore and Mary Sever Fulton.)
● ~g shows a Jessie Marie Fulton Hilling buried in Lynchburg Masonic Cemetery, along with Mary J., Theodore I., Clarence R., and Francis Q. However, Jessie's marker shows a birthyear of 1875 rather than 1864-65. She died in 1920; no other Hillings are buried with her.
● Garret Smith's first name is both written and transcribed as "Gerrit" in the 1860 census. In 1870's, he rejoins brothers George C. and Jesse ("Jespe") on the same Goshen Township census page, along with possible cousin John Smith [Jr.]. In 1880 Garret and John are again on the same census page.
● Rebecca (Mrs. Garret) Smith's birthdate of July 1822 is supplied by the 1900 census, which however shows her wedding year as 1842 rather than 1840, says her parents were born in Ohio rather than North Carolina, and claims her son Winfield was born in 1850 (though he was two years old in that year's census and 12 in 1860's).
● Old John Smith [Sr.] died in the 1850s. In the 1860 census John [Jr.]'s household appears immediately after George C. Smith's. John (aged 50) has $5,500 in real estate and $800 in personal estate. With him are wife Frances (aged 43) and children Albert (aged 22), Austin (aged 18: entered as "28"), Ann E. (aged 17), Caroline (aged 13), and John L. (aged 13).
● Elias Smith also died in the 1850s. His widow Elizabeth (aged 55: $1,200 in personal estate) lives in 1860 with son Samuel Smith (aged 32: a farmer with $3,000 in real estate), Elizabeth Smith (aged 25) and Emeline Smith (aged 13). If the younger Elizabeth is Samuel's sister, her age doesn't match that in the 1850 census, from which "Emeline" was absent; their 1860 ages rule them out as Samuel's wife and daughter. Meanwhile Elias's daughter Amanda Smith lives in Miami Township, having married S.M. Hughes (born c.1825); their eldest child is Smith Hughes (born c.1852). Oliver Smith appears to have moved to Green Township in Clark County OH.
● In 1860 Samuel Conover ("S.C.") Smith's amalgamated household has shrunk to wife Louisa (aged 53) and eight children: Alfred K. (aged 23: a shoemaker like his father), "Aquilla" (aged 20), Charlotte (aged 17), "Syron" (aged 17), Emma (aged 17), Louisa (aged 15), "Clard" (aged 11 [sic]), and "Lurdietta" (aged 13). By 1870 the family has diminished to Samuel (aged 63, now a farmer), Louisa (aged 65, still cannot write), "Aquilla" (aged 30: a farm hand), Louisa (aged 25), and Clara (aged 23). By 1880 "Saml C. Smith" has become a 73-year-old widower, living with daughter Emma L. Armstrong (aged 37), her husband Whitfield Armstrong (aged 55: a miller), and their children Eva E. Armstrong (aged 17), Frank C. Armstrong (aged 14), and Clara L. Armstrong (aged 12).
● John C. and Elizabeth Smith, the 1850 newlyweds, moved to Warren County's Salem Township by 1860. There near Morrow post office we find John C. (aged 33: a shoemaker with $600 in real estate and $400 in personal estate), Elizabeth (aged 29), and four children: Clarence Smith (aged 9), Warren Smith (aged 8), Lula Smith (aged 3), and Martha Smith (aged two months).
● In 1860 Ephraim and "Famy" Smith (both aged 49) live with daughters Ann E. (aged 23) and Louise (aged 22), plus clerk Silas Morgan (aged 35: transcribed as "Mangen") and blacksmith William Tomson (aged 28). In 1870 Ephraim and Frances (both aged 59) have only Ann Eliza (aged 31) at home; Ephraim is still a blacksmith, with $1,100 in real estate and $400 in personal estate. By 1880 Ephraim and "Francis" (both aged 69) host Anna Eliza (aged 42), the returning Louisa C. (aged 42) and her now-husband Silas J. Morgan (aged 59: a farmer), plus 4-year-old granddaughter Bessie Antram, whose parentage is unexplained.
● Of Samuel Conover and Louisa Bowlby's five children who lived past childhood: John Calvin Smith married Elizabeth Klippard on Jan. 1, 1850; Jesse W.I. Smith married first Carrie Porter, then Rosa [surname?]; Margaret Smith married Charles G. Armstrong (born 1816) in 1857 and had seven children; Charlotte Smith married first Almond Simonds in 1863, then William Ross, and had two children; Emma Louisa Smith married Whitfield W. Armstrong in 1863; and Clara Smith married Samuel Emery in 1871 and had nine children (only one of whose names is known). (This as per ~bowlby, ~bowlbyfamily, and ~bowlby/meltingpot, which list no children for Emma and Whitfield Armstrong.)
● Of "just plain" Jesse and Mary Bowlby Smith's five children who were raised by the aunt and uncle: Alfred Kenneth Smith married Nancy K. Ross and died Sep. 13, 1895; Aquila Brown Smith married Belle [surname?]; Syren Smith married Samuel Philip Shafer (1841-1928) in 1864, had five children, and died Jan. 19, 1930; Mary Louisa Smith died Jan. 15, 1897; and Linda Etta Smith married William Perrine Ross (1845-1899) in 1868, had six children, and died Nov. 21, 1924. (As per ~bowlby, ~bowlbyfamily, and ~bowlby/meltingpot.)
● By 1860 there were 66 Smiths in Goshen Township, of which only half were part of the households tracked in this chapter.

Return to the Fine Lineage Index Page

Go to the Fine Lineage Sources Page

Last updated October 05, 2013


Return to the Skeeter Kitefly Website Index

Copyright © 2003-2013 by P. S. Ehrlich; All Rights Reserved.