TWO: BURNS(ES) AND HEDGES(ES)
"SFA" stands for the Smith Family Archives, assembled and transcribed over many years by Leanna Lois Claudia Smith, daughter of Alonzo; her great-nieces Mellie Morris Smith (daughter of Herbert Gustavus) and Gertrude Fairchild Smith (daughter of Maurice Leigh); and great-great-niece Mildred Aileen Nash (neé Mellie Agnes Smith: daughter of Francis See).

"DCB" stands for correspondence with David Coulon Burns, webmaster of the RootsWeb megasite ~burns/dcb.

Internet sources are indicated by tildes (e.g. ~internet). A complete list can be found on the Sources page. Due to the transient nature of Internet entries, only a few hyperlinks will be provided to outside webpages; such as ~a (www.ancestry.com), ~f (www.familysearch.org), ~g (www.findagrave.com), and ~w (www.worldvitalrecords.com). The United States Federal Census records for 1850 through 1930 cited below are available at ~a (except for 1890's, which was badly damaged in a 1921 fire and later quietly destroyed).

B-7 "Her Smile Incensed Him"

● Elliott and Minnie
The SFA included an intriguing rumor concerning the youngest child of Jacob and Margaret Burns: that he might have ended up in the Ohio State Penitentiary, where he might have reorganized the library.
"In my family, Elliott wasn't spoken of much," said DCB (a great-grandson):
As for reorganizing the library, that's a new one to me, but I wouldn't rule it out. The story we heard was that he edited the Ohio State Penitentiary internal newspaper... Unfortunately, all the records from that period have been lost or discarded. The only thing I learned was that the paper was for the guards and administration, not for the prisoners, but that it was likely that it was physically produced by prisoners (part of their rehabilitation and training).
~burns/dcb, augmented by Dayton and Cincinnati directories, reports that Elliott Spahr Burns (born Oct. 6, 1866 in Medway OH) received a good education and worked in Dayton as a clerk (1883-85), stenographer (1886-87), and editor/publisher of Boys and Girls Monthly (1888). He lived with his parents at 132 S. Terry, and on Aug. 10, 1887 married Wilminnie Florence "Minnie" Smith (Sep. 21, 1870—May 9, 1953) at Dayton's St. Paul Methodist Church. Minnie's father Andrew Jackson Smith (1847-1916) was profiled in the 1897 Centennial Portrait and Biographical Record of the City of Dayton and of Montgomery County, Ohio (Dayton: A.W. Bowen & Co., pp. 772-73: viewable at Google Books):
ANDREW J. SMITH, of Dayton, is a native of Logan county, Ohio, and was born October 31, 1847, his parents being John and Maria (Weeks) Smith, both natives of this state. Mrs. Smith died when young Andrew was about eight years old, and his father died eight years later. After the death of his mother, he went to live with an uncle on a farm in Logan county, where he continued to make his home until he had reached his majority. He had the ordinary opportunity of Ohio farm lads, a good common-school education, but he profited by what was offered him, and possesses a wide and useful range of information. When he was a lad of only sixteen years, he enlisted, in 1864, in the 100 days' service as a member of company F, One Hundred and Thirty-second regiment, Ohio volunteer infantry, and the conclusion of his term of enlistment brought him well toward the termination of the Civil war [sic]. The solid character of his education was attested by his teaching school for two terms when he was only eighteen years old, but he had studied to learn and to know, and thus early manifested a strength of mind and a maturity of judgment that have enabled him to make that success in life which is recorded in this memoir.

At the age of twenty-two he married Miss Nancy E[valine] Moore [1845-1925], who was born on the farm adjoining that of his birth, the wedding occurring September 7, 1869. The spring of the next year witnessed the removal of the young couple to Kansas, where they settled on a farm, and followed an agricultural life for the next three years. But Kansas farming did not promise a satisfactory career, and in 1873 they returned to Logan county, where Mr. Smith had charge of a grain warehouse for the next five years. He was then engaged for a time in a bakery and restaurant business. In 1883 he secured a lucrative position as city salesman for a Dayton milling firm, and removed to this city. This position he has held for the past thirteen years with satisfaction to his employers and credit to himself.

Mr. Smith is a republican [sic] in his political proclivities, is regarded as one of the prominent and reliable leaders and workers for the party, and now represents it in the Dayton board of education. He is much interested in fraternity matters and is actively interested in one of the patriotic orders of the veteran soldiery of the land, as well as in other bodies. He is now senior vice-commander of the Old Guard post, Grand Army of the Republic, recording secretary of Crown council, No. 35, Junior Order of United American Mechanics, and also holds membership in Gem City lodge, 795, I.O.O.F., of which he has been treasurer for five years past. To Mr. and Mrs. Smith there have been born four children, of whom the eldest, Wilminnie, is the wife of Elliott S. Burns of this city; Eunettie [Sarah Eunetta "Nettie" Smith Cain Harper, 1875-1949] is the widow of the late William F. Cain, and Howard D. [Howard Dwight Smith: 1886-1958] and Paul R. [Paul Raymond Smith: born 1888?] are still children at home, Father and mother are members of St. Paul Methodist Episcopal church, and the family is highly respected in its social and religious relations.
Andrew J. Smith's obituary in the Dec. 3, 1916 Dayton News (courtesy of ~g) added:
The death of A. J. Smith, 69, familiarly known as "Corn Meal" Smith, occurred suddenly at his residence, 2 Belpre apartments, Fifth and Torrence streets, Saturday afternoon at 1:45 o'clock. He had been in ill health for some time, but his ailment did not confine him to his bed until two months ago. He acquired the name of "Corn Meal" Smith for his long service as driver of one of the Gebhart Milling company's wagons. Practically every grocer in the city knew him. He continued his connection with the milling company until about seven or eight years ago, when he took a position at the Davis Sewing Machine company. A. J. Smith was born near Bellefontaine, O., but had lived in Dayton for 33 years. He was a member of Crown Council, Jr. O. U. A. M., Old Guard Post No. 23, and Gem City Lodge, I. O. O. F. He was a charter member of St. Paul M. E. church. He leaves a widow, two daughters, Mrs. Minnie Burns and Mrs. Ralph Harper of Dayton, and two sons, H. Dwight Smith of New York City and Paul F. [sic] Smith of Buffalo, N. Y., who now, however, is a member of the First New York cavalry doing service on the Mexican border. Funeral services will be held Wednesday afternoon at 2 o'clock at St. Paul M. E. church. Old Guard post will hold services at the grave. Odd Fellows and Jr. O. U. A. M. services will be conducted in Davis' undertaking chapel on East Fifth street.
Between 1888 and 1895, Elliott and Minnie Burns would have five children§§, who are listed in Chapter B-6.
1890 found Elliott in Springfield OH as a bookkeeper for the Rogers Fence Co. By 1892 he was again a Dayton stenographer, but in the next two directories his name appears in BOLDFACED OVERSIZED ALL-CAPITALS as a reporter for the Dayton Daily Herald (1893) and the Dayton Times (1894). ~charitycircus notes how Harry Ellsworth Feight, "the most talented showman Dayton ever produced," organized a gala Charity Circus in July 1894 for families in need of aid, and recruited local newspaper men—Elliott Burns among them—"to ballyhoo the circus and get the crowd down town... Even the newswriters of that day struggled for bigger and better adjectives as they sought to paint a word picture of it."
In a squib titled "The Pencil-Pushers," the Aug. 5, 1894 Cincinnati Enquirer remarked: "Perhaps no city can present a galaxy of brighter newspaper men than can Dayton. The 'boys,' without an exception, are hard workers, attentive to duty and congenial." A list of staff and correspondents followed, winding up with "Enquirer—Elliott S. Burns." His Dayton city directory entry returns to a normal font in 1895, but displays two jobs: "secretary The Builders Exchange, Louis Block; also, correspondent The Cincinnati Tribune."
The June 1895 issue of Carpentry and Building (viewable at Google Books as Building Age) announced that "The Builders' Exchange of Dayton, Ohio, is considering the advisability of joining the National Association. The exchange in its present form is comparatively new. The officers are: H.E. Talbott, president; J. Elliott Peirce, first vice-president; C.H. Lyon, second vice-president; Elliott S. Burns, secretary, and C.H. Ware, treasurer." However, the Feb. 8, 1896 issue of Architecture and Building (likewise viewable at Google Books) noted that "At the last meeting of the Builders' Exchange, Dayton, Ohio, the following officers were elected: J.H. Pardonner, president, J.W. Sortman, vice-president, C.H. Ware, treasurer."

● The Time of His Troubles
For the next several years Elliott's city directory entries would show him working not as a reporter, but for the Davis Sewing Machine Co. as bookkeeper (1896-97) and chief timekeeper (1898-99). Minnie appeared without him in the 1900 directory (as "Burns, Mrs. Minnie F."), and also in that year's federal census, which gives her the marital status "W" for widow. In the same 1900 census "Spahr E. Burns" has relocated to Cincinnati, rooming at 416 W. Fifth with bartender Rudolph Grobmeier and his wife Lucia; "Spahr's" occupation is listed as machinist. "Elliott S. Burns" bobs back up in Cincinnati's 1909 and 1910 directories, working as a packer and rooming at 905 Mound. His sister Mila's 1907 obituary mentioned a brother E.S. Burns in Cincinnati, whose two oldest children Florence and Elbert attended her funeral; but Elliott did not.
What brought about these changes? A 1911 Dayton report (repeated below in its chronological place) would divulge that Elliott "was for a time employed on a local newspaper in Dayton and was well known here. About 15 years ago [so c.1896] he was employed by the Builders' Exchange and is reported to have been financially entangled while acting as Secretary of that organization. Later he drank heavily and attempted suicide by slashing his throat. He was removed to a hospital and recovered, but left the city as soon as possible, and as far as known has not resided here since. Up to the time of his troubles here he had borne a good reputation."
In "Gem City Notes" (i.e. News from Dayton), the Dec. 10, 1901 Cincinnati Enquirer briefly commented that "Elliot [sic] Burns, a former newspaper man, attempted to commit suicide yesterday afternoon at his sister's home on Huffman avenue by slashing his throat with a razor. He may recover. He had recently been employed by the Davis Sewing Machine Company and become involved in trouble, it is said." (The sister in question was Clara Burns Hart, who in the 1900 Dayton census lived with her husband and two children at 60 S. Huffman.)
"Financial entanglement," for a Bulders Exchange Secretary, could range anywhere from ill-fated speculative investments to some sort of professional humiliation (such as would be suffered by Elliott's brother-in-law H.G. Smith in 1912, when he lost his license to practice law). The "entanglement" would not seem to be of a seriously criminal nature, since Elliott was mentioned by name as A.J. Smith's son-in-law in the 1897 Centennial Portrait, and had a respectable-looking job with Davis Sewing for the next few years; but there too he got "involved in trouble, it is said." Again we are left to imagine its cause, nature and scope. With a wife and five young children to support, the pressures on Elliott could have been intense; and he himself would attribute "the time of his troubles" to having resorted to alcohol.

● Emma Combs: Fate of a Candy Wrapper

Neither Elliott nor "Spahr" Burns can be found in Cincinnati's 1910 census. However, it lists a Robert Burns rooming at 515 Laurel (as originally entered) along with Emma Combs, a widow who'd had one now-deceased child. Emma is listed as Virginia-born, with two Kentuckian parents; the same entries are made for "Robert." He is said to be aged 38, working as an assembler in a fly screen factory; Emma is said to be 27 and a wrapper in a candy factory.
On their census page (as shown above) the 515 is X'd out—implying that "Robert" and Emma were rooming at 519 Laurel with seamstress Anna Meyers (or Myers, or possibly Majors). However, this page is a hodgepodge of fragmentary enumerations from Laurel, Scott, John, and Hopkins Streets, dated Apr. 26, 1910. A much more methodical enumeration of Laurel Street had been done ten days earlier on a separate page, showing Marion G. Smith (wood carver at a factory) and his wife Mamie Smith among those living at 515 Laurel.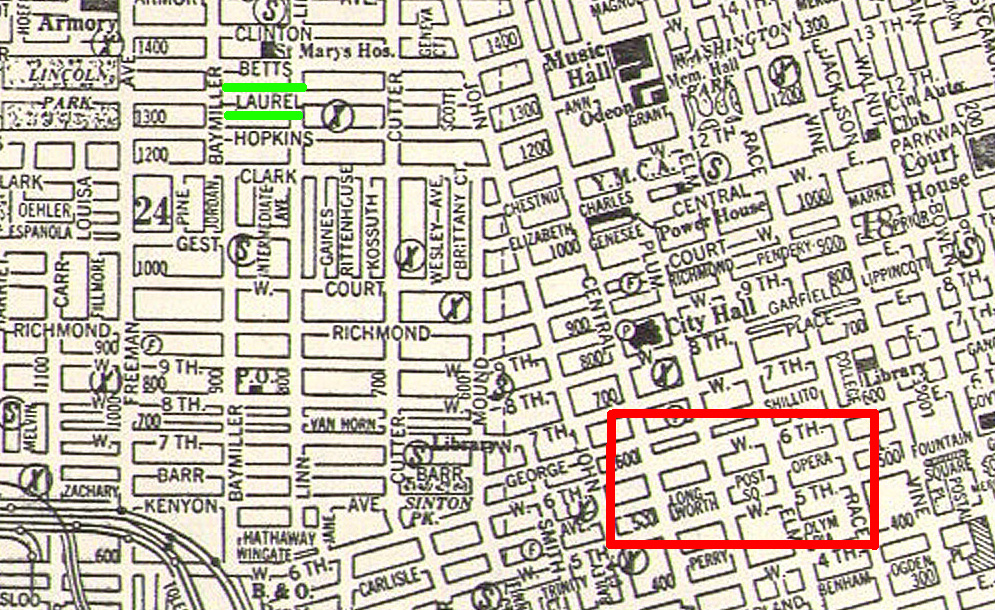 Laurel Street was on Cincinnati's West Side, east of Lincoln Park, and is marked in green on the map above. Outlined in red is the area around the Post Square Hotel at 208 Post Square, where Elliott Burns resided in May 1911. This was opposite the Cincinnati Post newspaper building (211-215 Post Square), across a street described by Cincinnati: A Guide to the Queen City and Its Neighbors (American Guide Series, 1943, p. 184):
The street passing the Post Building east-and-west bears four different names, although it extends but 10 short blocks. From Vine to Elm Street it is called Opera Place. Post Square runs one block to Plum Street. For one block beyond Plum it is Longworth Street, and the remaining stretch is called Carlisle Avenue. At the turn of the century the Longworth section became the haven of gamblers, sports, and hangers-on. They thrived until prohibition dried up the chief source of their revenue.
Visible within the red outline above, running east-to-west, are "Opera," "Post Sq," and "Long/Worth." Just around the southwest corner of Longworth is the intersection of Fifth Street and Central Avenue.
Ohio's database of Death Certificates shows Emma Combs of 515 Laurel Street, a white female "30 apparent" years of age and widowed "candy maker" born in Virginia, to have died on May 6, 1911 of stab wounds to the neck: "homicide by Elliott Burns." Emma was buried three days later in Cincinnati's Wesleyan Cemetery—plot Ra.26, grave 50, section N (as per ~g, which shows an age of 30 but an unknown birthdate).
In 2013-14 the present author gained access to the Cincinnati Enquirer's archives, allowing this story to be recounted in detail. The May 7, 1911 Enquirer proclaimed:
KILLED / Sweetheart With Knife / When Machinist Saw Her Smiling Upon Escort. / Latter Was Also Wounded By the Frenzied Lover. / Tragedy Occurred on Crowded Street Corner—Murderer, After His Capture, Becomes Hysterical.

Inflamed by jealousy Elliott Burns, 44, an employe [sic] of the American Laundry Machinery Company, and residing at the Post Square Hotel, drove a knife into the neck of Emma Combs, 27, his sweetheart, of 515 Laurel street, at Fifth street and Central avenue last night. The woman never uttered a sound, and sank to the pavement in a heap, blood running from a deep gash in her neck in streams to the gutter. As several passers-by lifted her to her feet she died.

A man who told Night Chief Krumpe and Detectives Leppert and Hanrahan that his name was Rock Sachs, 25, of 106 Commerce street, and who was with Miss Combs at the time she was attacked, tried to aid the girl when Burns sprang on him. Before Sachs could ward off the blown the knife was thrust into his neck. He fell to the pavement alongside his dead companion, as Patrolman Minor and Station House Keeper Johnson rushed to the scene. The two officers placed Burns under arrest.

At Central Station, when questioned by Sergeant Stegner, Burns at first declared that the murdered woman was his sister, then his wife. Afterward he stated that his wife had been dead for several years, and that Miss Combs was his sweetheart. He appeared to be under the influence of liquor, the police say.

HER SMILE INCENSED HIM. "I was trying to lead her to the fold of Jesus Christ," was the astounding explanation Burns made of his attack on the woman. "I knew her a long time, and thought well of her. By the wa[y], she had written me a letter telling me she was still true to me, I got that letter this afternoon and it made me feel so pleased. I was walking down Fifth street and had no idea of meeting the girl, when I happened to see her with another man. She was smiling in his face. I watched them for a time and the sight seemed to make me mad. Then I walked over to them. I could feel myself boiling. Say, Sergeant, is she in bad trim?"

Sergeant Stegner announced that the girl was dead, whereupon Burns raised his arms and shrieked. The man's weeping was so hysterical that no more could be got from him, and he was taken back to a cell and locked up on suspicion. During the interview he said nothing about the cutting of Sachs.

The latter is at the City Hospital in a serious condition. The body of Miss Combs was taken to the hospital by the crew of Patrol 1, but an examination showed that she had been dead for some minutes. Her remains were then removed to the morgue.

POSED AS HER BROTHER. For the past two years Miss Combs had resided at 515 Laurel street, renting two rooms from Mrs. Marion Smith. The latter was greatly shocked last night when told that her tenant had been killed. She stated that prior to the first of the year Burns had been a frequent visitor at the house and was introduced to her as Miss Combs's brother. Miss Combs was employed in the Eckert candy concern on West Court street. The young woman has no relatives in this city, Mrs. Smith stated, but often received letters from some city in West Virginia. Burns, she said, was from Dayton, Ohio.

Detective Chris Leppert went to the City Hospital late last night to get a statement from Sachs. The wounded man stated that he had met Miss Combs some time ago at a party in the West End. He never saw her again until he met her at Fifth street and Central avenue, when she spoke pleasantly to him and he stopped to chat for a moment. At the time, he said, he was unable to recall her name until she mentioned it.

"Then there was a swift flash of something," said Sachs, "and Miss Combs fell. I stooped over her and a knife struck me from the back. I could never identify the man who struck us, as my back was turned to him all the time."

Late last night Dr. A.W. Foertmeyer completed the post-mortem examination on the body of Miss Combs at the morgue. On opening the neck it was seen that five distinct thrusts had been made with a small-bladed knife. Another small wound was found in the right hand, made evidently when the young woman tried to ward off the blow. A large pocket knife found near the scene of the crime and covered with blood, and a bloody shirt, which was taken from Burns, are being held by the police and Coroner Coe as evidence against Burns.
Followed on May 8th by:
STABBING OF SWEETHEART. Blamed By Elliott Burns Upon Bad Whisky He Drank. Elliott Burns, of the Post Square Hotel, charged with stabbing to death his sweetheart, Emma Combs, a young girl who roomed at 515 Laurel street and also cutting Rack [sic] Sachs, of Commerce street, her escort, at Fifth street and Central avenue Saturday night, was a trembling wreck when seen in his cell at Central Station last night. His speech was rambling and his eyes had the peculiar glaze common to insane persons.

From what could be gained from the man's disconnected speech he was divorced from his wife several years ago, for what reason he could not remember.

"I drank a lot of bad whiskey last night," he said, "and I didn't know what I was doing. I loved Emma too much to ever want to kill her. You fellows ought to see the nice special delivery letter I sent her some time ago. It is all love. I was true to her all the time. We were engaged to be married, but she wanted me to marry her under an assumed name. I tried to tell her that could be no marriage, but she would have it. I worried a whole lot about why she wanted to have me do such a thing." Here the prisoner's talk became so disconnected that nothing rational could be gotten from him. He claims to have been at one time a newspaper correspondent and mentioned a theatrical man who was formerly a telegraph editor as his former employer.

Sachs passed a comfortable day at the hospital. There was no rise in temperature, which augurs well for his ultimate recovery. He had nothing further to add to the statement he made to the police after the cutting.
Same day:
ATTEMPTED SUICIDE. Special Dispatch to the Enquirer. Dayton, Ohio. May 7.—Elliot [sic] Burns, who murdered Emma Combs in Cincinnati last night, was for a time employed on a local newspaper in Dayton and was well known here. About 15 years ago he was employed by the Builders' Exchange and is reported to have been financially entangled while acting as Secretary of that organization. Later he drank heavily and attempted suicide by slashing his throat. He was removed to a hospital and recovered, but left the city as soon as possible, and as far as known has not resided here since. Up to the time of his troubles here he had borne a good reputation.
The May 12th Enquirer added:
"NOT GUILTY." Whispered Burns at Inquest of Girl Whom Witnesses Say He Killed. In the inquest into the case of Emma Combs, of 515 Laurel street, stabbed to death Saturday night at Fifth and Central avenue, several witnesses testified in the Coroner's office yesterday that they saw Elliott S. Burns attacking the woman, who was his sweetheart. Burns refused to testify because he had no attorney. In a mere whisper he said: "I am not guilty."

W.S. Ferguson, of 22 East Court street, testified that while walking along with his wife Saturday night he saw Burns slashing the woman and saw her fall, and that when Burns ran away he pretended he had a gun and would shoot him if he did not stop. Officer Johnson arrived them and arrested Burns. Henry Miles, colored, also testified that he saw the woman fall and that Burns struck her as she attempted to rise. Other witnesses corroborated them. Burns was returned to jail. Two other witnesses will be heard today.
May 14th:
MURDER CASE CONTINUED. The case of Elliott Burns, of the Post Square Hotel, charged with murdering his sweetheart, Emma Combs, of Laurel street, at Fifth street and Central avenue, a week ago, was called in the Police Court yesterday. The man appeared to be on the verge of a nervous collapse and had to be supported by the Court officers. Judge Bode continued the case to May 20.
May 28th:
BURNS BOUND OVER. Elliott Burns, formerly of Dayton, Ohio, who murdered Emma Combs, his sweetheart, at Fifth and Central avenues several weeks ago, was arraigned before Judge Bode in Police Court yesterday morning. He waived examination and was bound over to the grand jury.
In "News of the Courts" for Oct. 26, 1911:
BURNS ON TRIAL FOR MURDER. Elliott Burns, white, who killed his mistress, Emma Coombs [sic], May 6 last, by cutting her throat, was placed on trial before Judge Dickson and a jury yesterday. The murder occurred at the corner of Fifth and Central avenue at a time when hundreds were passing to and fro, the woman's head having been nearly severed from the body. It was claimed that Burns lived with the Coombs woman for six years. The defense will be insanity, as Burns, who was formerly a newspaper man in Dayton, once attempted his own life, and is said to have acted strangely. He is defended by Attorneys Rulison and Rose, Assistant Prosecutor Avery represents the state.
Sentence was passed in the Oct. 29, 1911 Enquirer:
GUILTY OF SECOND DEGREE MURDER. Elliott Burns, a former Dayton (Ohio) newspaper man, was found guilty of second-degree murder by Judge Dickson's jury yesterday morning, for the killing of Emma Combs, his former mistress. The murder occurred on the evening of May 6, this year, at the corner of Fifth and Central avenues. Burns and the Combs woman had been living together for six years, but paraded as brother and sister. Last January she left him, and all of his efforts to get her back failed.

On the evening of May 6 Burns encountered her at Fifth and Central avenues. She was talking to Rocco Saccki [sic], and without warning Burns stepped up to her, grabbed hold of her and drew a large knife across her throat, nearly severing her head. Burns was immediately arrested, and when locked up in the Central Station acted like a crazy man, talking incoherently and disconnectedly. The defense was insanity, and it was shown that Burns had once tried to commit suicide. The jury refused to believe that Burns was insane, however, and it returned a verdict of guilty of second-degree murder, after deliberating an hour and 40 minutes. Attorney Hiram M. Rulison defended Burns, and Assistant Prosecutor Avery represented the state. The verdict carries with it a life sentence.
The Nov. 21, 1911 Mount Vernon Democratic Banner reported that Elliott, "recently convicted of killing his sweetheart, Emma Coombs" [sic], had been sentenced to life in the penitentiary by Common Pleas Judge Dickson. Three days later, the Cincinnati Enquirer noted:
SUIT FOR DIVORCE / Brought By Wife of Burns, Sentenced For Murder Here. Dayton, Ohio, November 23—Minnie F. Burns to-day brought suit in the local Courts for divorce from Elliott S. Burns, who was sentenced to the penitentiary for life for the murder of a woman in Cincinnati. The grounds mentioned in the petition are willful absence for three years. They were married in 1887, and have five children. Burns was recently denied a new trial, and will be taken to prison in a few days.

Elliott S. Burns, who claimed to have once worked as a newspaper man in Dayton, was arrested after he stabbed to death on a crowded street a young woman named Emma Combs, who lived with Burns and passed as his sister for a time. During the trial of Burns for murder the murdered woman was referred to as the common-law wife of Burns, but no reference was made to the fact that Burns had a wife and children in Dayton.
~burns/dcb says Minnie Burns worked as a saleslady, seamstress, and genealogist researching her mother's family, the Moores. She maintained a widow's status in future censuses till 1930, when "D" for divorced finally appears. Wilminnie Florence Smith Burns died May 9, 1953 in Bloomfield Hills MI, and was buried at Dayton's Woodland Cemetery with her parents, son Bill, and sister Nettie; an obituary is included by ~g:
MRS. MINNIE BURNS. Services for Mrs. Minnie Burns, 82, former Dayton resident will be held at 2:30 p.m. tomorrow at Morris Sons funeral home, 1809 East Third street, Revs. Homer McDaniel and S. R. Dunham officiating. Friends may call at the funeral home after 4:00 p.m. today. Mrs. Burns died Saturday at the Brae Bern convalescent home in Bloomfield Hills, Mich., after a long illness. Since leaving Dayton she had resided with her son, G. D. Burns of Birmingham, Mich. Mrs. Burns was a native of Humbolt [sic], Kan., and was a member of St. Paul Methodist church in Dayton. She is also survived by a daughter, Mrs. Florence Smith of Dayton; two brothers, H. Dwight Smith of Columbus and Paul Raymond Smith of Buffalo, N. Y.; seven grandchildren and eight great-grandchildren.
Returning to Elliott's saga: the Mar. 3, 1912 Enquirer reported that
BURNS MUST SPEND HIS LIFE IN PEN. Elliott Burns, former Dayton (Ohio), newspaper man, must serve a life sentence in the penitentiary for killing Emma Combs at Fifth and Central avenues, on the evening of May 6, 1911. The Circuit Court handed down a decision yesterday finding no error in Burns's trial and affirming the verdict of the jury which found him guilty of second degree murder.

Burns had been living with the woman for some years, but they had separated, and on the evening of May 6 he met her at Fifth and Central avenues. The usual large Saturday night shopping crowd was in the neighborhood, but Burns caught the woman, pulled her head back and nearly severed It from her body by drawing a knife across her throat. Burns pleaded insanity, and evidence was presented to show that he was a drug fiend and that he had attempted to end his own life several times. The jury convicted him, however. Burns was defended by Attorneys Rulison & Rose, and Assistant Prosecutor Simon Ross represented the state. It is not likely that the case will be taken to the Supreme Court.
From all this we may imagine a chain of events. Emma Combs—possibly a young widow, possibly a "grass widow" divorcée—came to Cincinnati from Virginia or West Virginia, and was smitten by Elliott Burns's ex-journalistic oratory. They began a common-law relationship circa 1905, "parading" as brother and sister; perhaps Emma kept entreating him to make an Honest Woman of her by divorcing his wife in Dayton; perhaps Elliott always promised to do so, but never followed through. She might finally have had her fill of that (and of his drinking, jealousy, suicide threats, etc.) and told him in Jan. 1911 to never darken her Laurel Street door again. "All of his efforts to get her back failed." By May he was living at the Post Square Hotel, across the street from the Cincinnati Post Building and one block away from a "haven of gamblers, sports, and hangers-on." (Which must have been handy for off-duty Post reporters.) So on that fatal Saturday night we may envision Elliott getting soused on Longworth Street before stepping out around the corner to Fifth and Central, where he happened upon Emma smiling and chatting with the-much-young-than-himself Rocco Sacco…
(Small wonder that her name appears to be retroactively tear-blotted on the 1910 census form.)

● The Ponderous Thud of the Huge Prison Gates
The Mar. 10, 1912 Cincinnati Enquirer filled three columns with "the following remarkable statement":
IMPRISONMENT FOR LIFE. By decision of the Supreme Court of Ohio, Elliott S. Burns, who was convicted in the Court of Hamilton County for the murder of his sweetheart, must serve the life sentence in the penitentiary, imposed upon him by the trial Court. While his appeal was pending Burns penned the following remarkable statement, which may serve as a warning to thousands of thoughtless young men. The statement follows:

Ere this message of warning to young men (and I may well add young women) is clothed in type, the writer will have heard the ponderous thud of the huge prison gates as they close behind him—Death probably to be his liberator. Gazing backward in his eye's mind he reads above the portal, "Who enters here leaves hope behind!" He has become a "lifer"—apparently disinherited by humanity and disowned by the Almighty. I saw "apparently," for "God's ways are inscrutable." Witness Saul, the deliberate instigator of persecution and slaughter, spoilation and murder—yet what a transformation! Behold Paul, the divine, the greatest living example of grace and humility in the kingdom of God's love.

In my seven months's stay behind prison bars I, perhaps, have read more of Holy Writ than during the entire years of my previous life, and I find that the Christ was the greatest exponent of mercy. In the sermon on the mount He said, "Blessed are the merciful, for they shall obtain mercy." Even on the cross, surrounded by His crucifiers, He prayed, "Father, forgive them, for they know not what they do!" And I declare, God being my Judge, in the commission of the offense with which I stand convicted, I knew not what I did.

The primary causes of this tragedy are buried within my breast, but I say as a warning to others that to drink is due my deplorable position. But the law must be vindicated, and, as is well known, it does not recognize intoxication as an excuse for crime.

Many boast that they are able to "drink and leave it alone." Young man, I warn you: you may prove as weak as I—likened to one of the weaker structures in a city, unable to withstand the force of the mighty hurricane traveling fast and furious.

Despite the fact that I passed 11 years in the city of Cincinnati without a police officer even questioning my going and coming, I, as the result of the injudicious use of intoxicants, finally find myself convicted of the greatest crime in the decalogue.

What a terrible example, young man, should my fate prove for you! A penal institution, o'er which Time with leaden wings shall pass, shall be my home. In the words of the poet:

Though the joy bells may be ringing,
Not a note he'll hear them singing;
All in vain the sun is shining,
Waters sparkling, blossoms twining;
He to see the shade of sorrows—
Sad to-days and worse to-morrows—
Everything and anything
But the gold the sunbeams bring.

Notwithstanding the knowledge that I am not consciously guilty, I needs must suffer remorseful agony of mind as long as I live—the greatest punishment that could be inflicted upon a human being. A pardon, after a lapse of years, would mean for me to emerge from prison walls broken in spirit, weakened physically, only to be kicked from pillar to post by an unsympathizing public—an ex-convict. Even a possession of countless stocks and bonds, fine raiment and splendid equipages, could never drown the sorrow that fills my heart. Verily, young man, here is food for thought—appreciate the freedom you have and by a strict adherence to the laws of God and man retain same as your heritage.

My brain now free from alcohol, and my heart, God being my helper, centered upon "that which is good," my thoughts revert to the freedom which was at one time mine, but not appreciated. It meant the fragrance of the beautiful flowers, the bursting of buds into blossoms, the quaffing of the crystal pure water from the bubbling spring, the notes of the robin and whippoorwill, the chirp of the cricket and the katydid, the breathing of the air in its purity, the gentle touch of the cooling breezes, the dewy grass bedlamonded at early morn, the woods and fields dressed in their scarlet and gold at autumn time, and the fellowship of friends—in short, a wellspring of happiness within.

Young man, you may declare that you are no fool. My answer is that circumstances you now little dream of many conspire, if you are not wary, to cast you in the same boat I now occupy. The hu-
This screed continues for a third full column, largely—perhaps mercifully—illegible in the Enquirer archives. It refers to the author's mother (Margaret Burns) as:
that sweet-voiced, old-fashioned … whose hair is silvered, whose … dimmed, whose form is bent … the trials and sorrows of … features, despite the chiseling … time, remain fine and sweet … light which radiated from the … I was a babe continues as … to-day. During my imprisonment … given me all that lay within … her sympathy, her love… At the time of my birth … doubt, breathed a prayer that … should prove to be a joy and … her. I pray you, young man … mother as I have done. / Later, picture that mother … at eventide, sitting by the … in that country home … lap, and I, a little boy … learning to lisp the prayer … lay me down to sleep" … To-day her breaking … out, "Bring him to me with … and tell him I love him still."
We may presume that Elliott intended this testimonial to be published on the same page as transcribed Sunday School sermons. Instead, the Enquirer placed it immediately above an illustrated advertisement for Nemo Corsets ("Worn by Wise Women"); below another ad for "Women's Low Shoes"; and alongside the column "Clara Belle's Chatter of Women and Their Ways," which in turn was next to an ad for Japp's Hair Store: "If You Want Best Quality Hair at Moderate Prices Go to Japp's... Special Values This Week in Gray Hair for elderly ladies" (e.g. Margaret Burns, "whose hair is silvered"). Perhaps these juxtapositions would have brought a smile—incensing or otherwise—to the face of poor Emma Combs.

● Elusive Elliott
The Jan. 9, 1914 Mahoning Dispatch remarked:
PRISON EDITOR WANTS LIBERTY. Elliott Burns... is seeking a commutation of sentence. Burns, who is editor of the Penitentiary News, pointed out Judge Cushing's ruling in a recent murder trial, "that the question of the man's mental state at the time of the crime is to be considered."
The Mar. 4, 1915 Newark (Ohio) Advocate made brief mention that Elliott's application for pardon was among those rejected by the state board. The 1920 census duly lists his residence in Columbus at the Ohio State Penitentiary, with marital status "divorced" and occupation "reporter." Then, according to the Dec. 16, 1920 Sandusky Register:
Columbus, Dec. 15—Gov. Cox pardoned Elliott Burns, former newspaper man of Dayton, who was serving a life sentence in the penitentiary for murder. He was convicted in Cincinnati, where [he] is alleged to have killed a woman of the underworld. He has served nine years of his prison term.
The Dec. 16, 1920 Lima News chimed in: "Elliott Burns, newspaper man, serving sentence for murder, pardoned by Governor Cox after nine years confinement"; and that day's Cincinnati Enquirer wrapped things up with:
PARDON ENDS LIFE TERM. Former Dayton (Ohio) Man, Who Killed Cincinnatian, Freed. Columbus, Ohio, December 15—Through exercise of the pardoning power by Governor James M. Cox, Elliot [sic] Burns, formerly of Dayton, prepared to-day to start to Cincinnati where he is to be given employment. Burns's pardon ended a life term in the Ohio Penitentiary to which he was sentenced after trial in a Hamilton County Court for the murder of a woman. He had served nine years to a day, a high average for "lifers."

Burns's downfall was due to alcoholic habits. For years Burns had been a trusty, and his pardon was recommended by Warden P.E. Thomas, the Board of Clemency and urged by Rev. Charles G. Reed, a clergyman.

Elliot [sic] Burns was arrested by Cincinnati police and convicted on a charge of having murdered Emma Combs, with whom he had kept company. Burns, according to police records, attacked her when she was at Fifth street and Central avenue on the night of May 6, 1911, and cut her throat. She died almost immediate [sic]. He told the police that he killed her because she has been untrue to him.
James M. Cox had worked for the Cincinnati Enquirer in the early 1890s, and been owner/publisher of the Dayton Daily News from 1898 till his election to Congress in 1908; he returned to that job after losing the 1920 Presidential election to fellow Ohio newspaperman Warren G. Harding. DCB noted speculation that Cox and Elliott Burns had been journalistic acquaintances.
There is no available record of Elliott's life during the 1920s. He may indeed have been "kicked from pillar to post by an unsympathizing public—an ex-convict." When his great-niece Mellie Smith Nash, as a child, entered a room where grownups were discussing Elliott, "silence would fall." At any rate he is not to be confused with Robert Elliott Burns (1892-1955) who wrote I Am a Fugitive from a Chain Gang in 1932, and consequently dominates all "Elliott Burns" news of this period. The 1930 census lists an "Elliot" Burns as an inmate of the Montgomery County Infirmary: aged 64, marital status "widowed," with both parents said to hail from Northern Ireland.
Elliott Spahr Burns died at the Montgomery County Home on Aug. 11, 1935, aged 68, of bronchopneumonia with stomach malignancy. His death certificate (courtesy of DCB) shows a birthdate of Oct. 17 rather than Oct. 6, 1866; an age of 68 years 9 months 24 days; marital status "widowed"; and lists the deceased's occupation as "news reporter."
The Aug. 12th Dayton Daily News briefly noted "Funeral service for Elliott Burns, 69, who died Sunday at the Montgomery County home is being arranged while the body lies at the Frank Riesinger funeral parlors. A nephew, R.E. Mercer, and a sister, Mrs. F.R. Gustin, Dayton, survive" (as per ~elliott_obit). On Aug. 14th, Elliott was buried at New Carlisle Cemetery—with "no marker," according to ~burns/dcb. However, ~newcarlisle records an "Elbert S. Burns" is buried at A-036-07—the same plot as Jacob, Margaret, and four of their children who died young. "Elbert" is said to have been born in Medway on Aug. 17, 1865 and died in Dayton on Aug. 11, 1935, aged "69y 11m 24d." The age, date and place of death all seem to identify this as Elliott; but what of the birthdate? Could Jacob and Margaret have had a twelfth child (fitting feasibly into the ranks, two years after Lenna and fourteen months before Elliott)? Could "Elbert" have been another child who died young, before the 1870 census (which shows Elliott aged three, not five)? Could Elliott have memorialized this possible brother by naming his own eldest son Elbert Spahr Burns (who would live till 1951, and be buried in Michigan)? And might Elliott himself have been tucked in beside the original Elbert at New Carlisle, sharing a single grave and marker?
Well, no. DCB clarified the situation:
The New Carlisle Cemetery was formerly the Honey Creek Church Cemetery (I forget now whether it was a Methodist or Presbyterian church), and was essentially abandoned, at least administratively, sometime before 1950. All the burial records were lost. When the city took over responsibility, it had to reconstruct the records from reading the stones and from other material they found somewhere. They have a computerized record they made from the written records and maps made in the 1950s. The sexton told me that on the digital graphic of the plots, any place that had an (unknown) indicated that they had found evidence of a burial, but because there was no stone, they didn't know who or when—how they did this without digging up the place, I can't imagine. Maybe they stuck a long stick in the ground and probed for a casket...
As to Elliott Burns: when he died in 1935, his burial was arranged for by his son Elbert Spahr Burns. As no stone was erected, somewhere in the record keeping, someone put Elbert's name on the burial. I have Elliott's death cert and it clearly gives Elbert as the informant and says Elliott was buried at New Carlisle. In fact, I had gone to New Carlisle to find him and failed, although I found his parents and the children who died young, as well as some other Burnses who were unknown to me at the time. The sexton... revealed to me that there was this unmarked burial between the young children and Jacob and Margaret, and that was "Elbert." I explained to him that it was really Elliott, but I don't think he could make changes in the records without proof—I probably should mail him a copy of Elliott's death cert for that purpose.
Uncle Elliott (as the present author's family now call him) would doubtless have been pleased to know that a great-great-nephew would one day be Professor of Journalism at the University of Illinois; though less pleased that said Professor's access to ProQuest Historical Newspapers would provide many of the clippings cited above. And it's probably just as well he isn't aware that the mother and aunt of said Professor (and said Professor's older brother, the present author) would "dine out" recounting the saga of their Great-Uncle Elliott and Emma Combs, a century after that fateful Saturday night at Fifth and Central in downtown Cincinnati.

Notes

● Laboring Under Delusion: The Scrub Brush Red Herring
Hopes of learning more about Emma Combs were raised by a lurid Dec. 20, 1911 Cincinnati Enquirer article headlined:
SKULL / Crushed While in Bed / And Victim's Wife Admits She Used a Scrub Brush. / Confession made After Sweating Mrs. Schaefer and Son. / Bloody Bed Clothes Found Stuffed in Ash Can and Closets—Other Puzzling Features. / Joseph Schaefer, 55, was found unconscious and dying in bed at his home, 3832 Dumont street, at 4 o'clock yesterday morning. A hole from which the blood oozed was found in the top of his skull; his nose was smashed flat and both eyes were blackened as though from blows of heavy flats. By his side, in a narrow iron bed, slept his stepson, Fred Schaefer, aged 21, as soundly as a child, and with his night clothing free of blood stains, although the elder Schaefer was literally weltering in blood. The young man and his mother, Mrs. Agnes Schaefer, 48, were arrested by Patrolman Reisinger. Schaefer was still alive last night. / Late last night, under a cross fire of questions from Police Chief Jackson, the woman confessed that she inflicted the wounds upon her husband. She had been questioned earlier in the day, but denied knowing anything, but the Chief was not satisfied and came back to headquarters in the evening. He summoned the woman and her son to his office. During the inquisition she suddenly rose from her chair and exclaimed: / "Yes Colonel, I struck him after he kicked me in the stomach. He shouldn't have done that to me." The woman gasped for breath and her son Fred looked at her with horror written on his face.

THE WIFE'S CONFESSION. The wife continued: / "The clock was striking one yesterday morning when I heard him get up. I got up, too, and started back to the toilet compartment. I left the house and started through the rear yard. When I was returning he came out and accidentally bumped into me. We had an argument and he kicked me. He hurt me. He kicked me in the stomach. It was awful. I grabbed a broom and struck him over the head with it and he went into the house. I followed him and on the way picked up a scrubbing brush. It had sharp edges and was heavy. I went into his room and hit him over the head with it." / She said she threw the clothing down a vault in the back yard and put the scrubbing brush in an ash can. / The Sixth District police meanwhile searched the house again and came on a bloody pillow case and some bed clothing covered with blood hidden away in the rooms. They also found two scrubbing brushes, but neither was bloody. They could find no brush in any of the ash cans.

DOUBT ABOUT WEAPON. Before beginning her confession to Chief Jackson, Mrs. Schaefer told the Matron in charge of the Place of Detention that she is a sister of Emma Combs, who was stabbed to death nearly a year ago by Elliott Burns, now under sentence for murder. This crime occurred at Fifth and Central avenues, Burns attacking the woman when he caught her talking to another man and driving a knife five times into her neck. She had been his sweetheart, but their relations had been broken off. / The police can scarcely credit Mrs. Schaefer's statement that she inflicted the awful wound on her husband's head with a scrubbing brush, The cleft in the bone is clean cut, and Dr. Behymer, who was one of the first on the scene early yesterday morning, was of the opinion it had been made with a hatchet. However, no trace of such a weapon could be found. / About 4 o'clock yesterday morning Mrs. Schaefer called the police to her home, and Patrolman Reisinger found Schaefer lying on his bed unconscious. The stepson said he had gone to bed at 10 o'clock after sitting up and reading a book, and was not awakened until his mother and the patrolman aroused him. The bed is a very narrow one, of iron make, and the police could hardly credit the tale that he slept through the crushing blow that was evidently dealt his stepfather. Searching the back yard, Sergeant King and Patrolman Reisinger found a bloody pillow stuffed in an ash barrel.

LABORED UNDER DELUSION. Chief Jackson recognized Mrs. Schaefer at once as a woman who some time ago bothered him greatly with tales of her husband's alleged abuse. Her talk was of such a rambling nature that the Chief set her down as a crank laboring under a delusion. She told things hardly possibly to believe, and even visited the Chief's residence, asking advice as to what to do. / Mrs. Schaefer had also been a frequent caller upon Judge Lueders at the Probate Court, each time complaining about some fancied wrong her husband had done her. Judge Lueders saw that she was mentally troubled and sent for Schaefer, advising him to send his wife to Longview. Schaefer refused to do this, declaring that while he had noticed his wife's actions he did not want to place her in an asylum.
It might be poetic justice to believe that Agnes Schaefer was Emma Combs's older sister, driven over the edge by her violent death and striking a vengeful blow (with scrubbing brush or hatchet) against the nearest abusive male. Regrettably, no family link between Agnes and Emma can be established. The 1900 and 1910 censuses indicate that Joseph and Agnes "Schafer" both emigrated from Germany in the 1880s. Joseph (born c.1857-60) worked as a gardener and factory laborer. Agnes (born c.1860-61) married him around 1897, her previous husband having been a Mr. Orth, father of Fredrick aka Fred Carl Orth (1890-1975) and possibly a daughter Louisa (born c.1893 in Indiana) who's surnamed Orth (transcribed as "Orto") in 1900, but Schafer in 1910 and '20; the latter census showed her living in Fred Orth's home as "sister-in-law."
On Jan. 4, 1912 the Enquirer noted that the Police Judge Fricke had turned Agnes Schaefer over as the first case for newly-appointed "alienist" (i.e. psychiatrist) Dr. Ralph Reed, who would report the results of his examination to Probate Judge Lueders. On Jan. 21st the Enquirer added that "Mrs. Agnes Schaefer, wife of Joseph Schaefer, of Dumont street, was committed to Longview yesterday. Some weeks ago Mrs. Schaefer, who had been acting strangely, struck her husband on the head with a hatchet, inflicted a severe wound and rendering him unconscious. She then told the police that he had been attacked by some unknown person. The police preferred the lunacy charge against her, and it developed that she was in Longview for a short time some years ago, Her husband has almost entirely recovered from his injury." In the 1930 census, Agnes Schaefer (born c.1859 in Germany, emigrated 1883) was a widowed inmate of the Lima (OH) State Hospital for the Criminally Insane. She died there aged 79 on Dec. 11, 1937—as per her ~f death certificate, which gave a birthdate in Germany "about 1858"; occupation housewife, c.1880-1912; principal cause of death, chronic myocarditis; and contributory cause, "Insanity—paranoid condition" dating from c.1906. She was buried at the state hospital cemetery. Given her history, we can only conclude that Agnes momentarily hitched her unstable wagon to the late Emma Combs—whose own background remains buried somewhere in (West) Virginia.
*
● Though nowhere mentioned, it's likely that Elliott was named after the Reverend William Elliott Spahr, a young Methodist minister from New Jasper, Greene County OH. His marker in Xenia's Woodland Cemetery shows him as living from Aug. 1, 1839 to Nov. 29, 1865; however, a profile of the Spahr family on page 890 of The History of Greene County, Ohio, Volume II (Indianapolis: B.F. Bowen & Company, 1918) says he "died unmarried at the age of forty-six years" rather than 26. (His sister Elizabeth A. Spahr married a fellow Methodist minister, the Rev. Cornelius Turner; while another sister was named Sarah Temperance Spahr, and appears as "Temperance" in the 1850 census.)
● "'Charity, the Sweetest of All Virtues, Reigns Today' reads the glaring headline on a copy of the old Dayton News of Thursday, July 12, 1894, and the entire front page—every line of it—is given over to a description of" Harry Ellsworth Feight's Charity Circus. "But that was not all the flowers the early headliner had to scatter as he attempted to do justice to the unusual event. 'The Magnificent Culmination of Weary Weeks of Earnest Endeavor Delights the Public' he declares in still another breath, and then he explains himself with the statement that 'The Charity Circus in All Its Glory Is Here, and Admiring and Enthusiastic Thousands Bid It a Hearty and Vociferous Welcome'" (as per ~charitycircus).
● Harry Feight later organized Dayton's first street carnival in June 1899 (~dayton/streetcarnival), and participated in a fleeting Nov. 1904 display of the Liberty Bell, en route back to Philadelphia from the St. Louis World's Fair. ("A semblance of order was maintained... through the experienced showmanship of Harry Feight"; as per ~dayton/libertybell.) An ad in the July 22, 1899 New York Clipper asked: "GENTLEMEN: Are you contemplating holding a STREET FAIR IN YOUR CITY? If so, it will PAY you to INVESTIGATE. DON'T sign contracts until you are fully convinced as to what you are going to GET. DON'T be foolish enough to BIND yourselves DOWN, or you may have CAUSE to REGRET IT." Among the "PRACTICAL AUTHORITIES on this SUBJECT" to which readers are referred is "Mr. Harry Feight, Dayton, O." who "will tell you RIGHT from WRONG."
● The Louis Block building, site of the Dayton Builders's Exchange, was located on the southwest corner of Fifth and Jefferson.
Concerning Elliott's fellow officers in the 1895 Builders's Exchange

● Harold Elsner "Harry" Talbott Sr. (1860-1921) was a Dayton mogul with a long career in civil engineering and contracting, who built railroads, dams and bridges; ran Dayton Metal Products, Dayton-Wright Airplanes, and Mead Pulp & Paper; served as a director of Dayton Lighting and the City National Bank; was given the honorary rank of colonel by Governor James Cox for leading the local cleanup effort after the 1913 Flood; and died while playing golf at his winter estate in Miami, leaving an estate of between two and five million dollars. His wife Katherine Houk Talbott (1864-1935) was active in the Dayton Anti-Suffrage and Anti-Saloon Leagues. Their son Harold E. Talbott Jr. (1888-1957) served as Dwight Eisenhower's Secretary of the Air Force (1953-55), resigning after a Congressional investigation of his soliciting business for his engineering firm from Air Force contractors.
● John Elliot Peirce [sic] (1861-1940) ran Peirce & Coleman, "Manufacturers of and Dealers in Lumber, Shingles, Lath, Sash, Doors, Blinds, Frames, Mouldings, Hardwood, Lumber and Glass." This concern was "dissolved" in 1896, and Peirce "turned his attention to other commercial interests" (as per a 1909 History of the City of Dayton and Montgomery County Ohio)—so perhaps he too suffered a touch of financial entanglement.
● The same might also be said of fellow Exchange vice president Calvin H. Lyon (1846-1914) who went from being vice president of McHose & Lyon ("Dayton Architectural Iron Works, Iron Fronts for Buildings, Wrought Iron Fencing, Jail Work, Verandas, Iron Stairs, etc.") in the 1893 city directory, to simply "building materials" in 1896's.
● On the other hand, Exchange treasurer Charles H. Ware (1843-1930) of Ware & Moodie—"Plumbers, Steam and Gas Fitters"—served as Dayton Fire Commissioner from 1888 to 1900, and in 1898 was also elected president of the Ohio State Association of Master Plumbers. (Plumbers, of course, are used to working around entanglements.)
● An Emma Combs, "forelady," is listed in the 1909 Cincinnati directory. Earlier city records include other individuals with the same name: an Emma B. Combs who taught Spanish at the Nelson Business College in 1898-1901, and a Sister Emma Combs (born 1858 in Maryland) who in 1900 was an "inmate" of the Convent & Academy of the Sacred Heart.
● Laurel Street, where Elliott and Emma did some of their "parading," is long gone. It was "originally a narrow street lined with brick row houses and businesses... with the Cincinnati Symphony Orchestra Hall towering over the eastern end of the street, as if keeping watch over all who passed." In 1932 it was renamed Terminal Parkway, when "many of the existing buildings, both residential and commercial... were razed to make room" for the Cincinnati Union Terminal. The street was called Lincoln Park Drive from 1935 to 1976, when it was renamed Ezzard Charles Drive after the heavyweight boxing champ known as the "Cincinnati Cobra," who'd lived on Laurel Street in his youth. (As per ~laurelstreet, which includes a number of vintage photos.)
● Rocco Sacco was born Feb. 7, 1884 in Italy (as per his two World War draft registration cards), the son of Fiore Sacco and Savina Curci aka Lavina Curcio (as per ~f and ~g), and emigrated to America in 1910 (as per the 1920 census, though ~roccosacco believes him to be the 23-year-old of that name, born in Ascoli Satriano, who arrived aboard the Romanic on Mar. 5, 1907). On Sep. 13, 1913 he married Michelina/Micheline Bizzarri, born c.1892 in Italy, daughter of Antonio/Anthony Bizzarri and Filomena Fattibene aka Philomena Fatebiene (as per ~f and ~g) in Hamilton County OH. Rocco's occupation in Cincinnati censuses and directories would consistently be "shoewkr" (once "shoe repairer"). He and Micheline had nine children: Flora/Flo (1914-1985), Savina/Sammy (born c.1916), Antonio/Anthony (born/died 1917), Anthony/Tony (1918-1975), Philomena (1920-1984, married William R. Clark), Peter (1922-1987), Joseph (1924-1965), Mary M. (1926-2008, married Raymond L. Kist), and Anna M./Annie (1929-2008, married Earl Yerkes): as per ~roccosacco. Rocco died aged 65 on June 27, 1949; Micheline followed on Apr. 7, 1960, aged 68; they were buried at Cincinnati's St. Joseph New Cemetery.
● As a young man, Elliott's attorney Hiram M. Rulison (1852-1924) worked with Thomas Edison as a telegraph operator; he later served as Hamilton County OH Prosecutor. Rulison's pallbearers included "Councilman Charles O. Rose"—possibly Elliott's other attorney. (As per ~g.)
● Elliott's page in the May 8th Enquirer also notes that New Jersey Governor Woodrow Wilson was "the principal speaker at a celebration of the tercentenary of the King James version of the Bible… His topic was 'The Bible and Regress.'"
● The Oct. 29, 1911 Enquirer article giving Elliott's verdict was followed by "Two Stiff Sentences" from the same "Judge Dickson, sitting in the Criminal Court." Once found "Harvey Owens, colored... guilty of assault to kill Phil Cruse, white," having assaulted him with a chair and crushing his skull. "A piece of the skull had to be removed and was used as a grewsome [sic] bit of evidence in the trial."
● Minnie's brother Howard Dwight Smith, a Columbus OH architect, won the AIA Gold Medal for Civil Design in 1922 for Ohio Stadium; as per ~g.
● In his jailcell homily, Elliott quotes selected lines from "Faith of Today" by Anonymous, found in various periodicals available at Google Books (e.g. The Railway Clerk for March 1911).
● "DEAR MADAM" (states the ad for Nemo Semi-Elastic Corsets) "It isn't always fair to blame a dealer for trying to make you buy some other corset when you ask for the Nemo. Merchants are in business to make money, and as much of it as possible. Furthermore, some merchants actually don't know their own stocks well enough to distinguish between REAL NEMO SERVICE and its imitations. Some others care only for the extra profit which generally goes with bogus merchandise. On the other hand, we have worked for years—and very successfully, thank you—to give women better corsets and greater corset-values than they ever had before. It is our purpose to serve the public, and that's why we have fixed the retailer's profit at a fair living figure—so that YOU, madam, shall get FULLEST VALUE for your money. As we have already told you, some dealers—fortunately not very many—attempt to defeat our purpose by trying to make you buy other makes, on which the dealer may collect 100 per cent. profit—from YOU. If your dealer ever tries this on YOU—BE A WISE WOMAN! Nemo Self-Reducing Corsets are the world's standard for stout women, with ABSOLUTELY NO SUBSTITUTE and not even a good imitation. A model for every type of stout figure—$3.00, $3.50, $4.00 and $5.00."
● The Mar. 10, 1912 Enquirer page that included this ad (immediately below Elliott's homily) also featured an "About Our Ancestors" column.
● Preston Elmer Thomas (1871-1952) was Warden of the Ohio State Penitentiary from 1913 to 1935. During his tenure, 322 overcrowded inmates died during the Easter Monday Fire of Apr. 21, 1930, the worst inferno in Ohio history.
● Elliott's nephew/namesake, Robert Elliot Mercer, had previously attended cousin Mila Burns Smith's funeral in 1907.
● Details from Elliott's death certificate (as per ~elliott_obit): "ht 5'8 1/4" eyes lt ches, hair dk ches, complexion M dk... [identifying marks:] Forehead Rec H M, Nose Rect, Hor. Malp., Chin Rec, Wt 106 Bed E<?> Boot 7 Hat 7 1/4 OW scar 1/2" long top left middle finger inner. Bl curve scar frd sc to L of m 2 e ab center eyebrow. OW scar 4" long L side neck 6 c below lobe. Principal cause of death: Broncho Pneumonia, onset 8/5/35 Contributory: Malignancy of stomach, onset 1/1/35 clinical observation, no autopsy."
● In 2019 I placed a digital white lily on Emma Combs's FindaGrave entry at ~g, "with apologies on behalf of Elliott Burns."


Return to the Fine Lineage Index Page

Go to the Fine Lineage Sources Page

Last updated December 06, 2019


Return to the Skeeter Kitefly Website Index

Copyright © 2003-2019 by P. S. Ehrlich; All Rights Reserved.