To Be Honest

Chapter 11

New Deal on Devon
click above to view a larger version of the book cover
"Well, here we are again, time sure flies fast," Joseph wrote in Martha's Diary on February 8, 1930. "I am afraid to look how long it's been since I wrote in your book last." He noted that Martha was now in the fifth grade, and that her most recent report card had been half Excellent and half Good. "So you are not the very best, just middle best, so far. Which shows you could do it if you put your mind to it." She was also coming along well with her piano lessons, although she still had to be prompted and even forced to practice daily.
For special occasions such as Joseph's birthday, whenever a surprise present was needed, Martha would secretly learn a new piece of piano music and practice it on the sly. Each time she wondered how she managed to practice without her father knowing, until finally it dawned on her that everybody repeatedly pretended not to know—Joseph probably appreciating her voluntary practicing as much as the thought-that-counted. Mathilda would also slip the children twenty-five cents, and they would buy their father a couple of two-for-a-quarter cigars for his birthday, one cigar coming from each of them.
Joseph's February 1930 Diary entry mentioned that George (who was beginning his second year in kindergarten, being deemed too young at five to enter first grade) had started taking violin lessons. "I am teaching him to read music. I asked him what is a half-note and a quarter-note together, he thought for awhile, then said 'One dollar.'"

In 1930 the Great Depression gradually made its presence felt across America, not least in Chicago, which had devoted the late Twenties to opening vast new public buildings and reeling from a long spree of unrestrained, heavily-publicized gang warfare. Now with the Depression deepening and prosperity not waiting just around the corner, many jobless people were moving to Chicago in search of work. In September a "Hooverville" shantytown appeared at the foot of Randolph Street.
There was no shantytown up on Rosemont Avenue, and to many of Joseph and Mathilda's relatives back in Europe, the Ehrlichs—living in America—were therefore rich. One most convinced of this was Joseph's younger brother Miska, who played the violin in Athens café orchestras and later lived in Cairo. From time to time Miska would write "dunning" letters asking for money, and Joseph would exclaim, "They don't realize how poor we are!" Even so, the Ehrlichs were occasionally able to scrape together ten dollars and send money orders to Joseph's mother Sarolta in Budapest and Mathilda's father Móric in Cluj. Since it could not be more money, the Ehrlichs would say it was "for cigarettes."
Around 1930 word came that Móric Kohn had died. Martha, who no longer remembered her grandfather clearly, startled George by bursting into tears; and Mathilda went out and bought a candle to light in Móric's memory, the only such candle that George would ever see in his parents's home. Memorial candles were constantly burning at Aunt Jenny Kohn's apartment, which always smelled of melting wax. (Samu bácsi, Uncle Sam, died not long after his brother.) But Jenka néni was the only one in the family circle to practice all the rites of Judaism, even to keeping a kosher kitchen. Mathilda would have appreciated the comfort of regular ritual and overt prayer; but such were definitely not for Joseph, and Mathilda went along with him without question.
1931 Jan. 3. Here's another year gone. We all are well, but I have money worries again. I don't think Mother and I ever will forget these hard years. It doesn't bother you because we try to keep it from you and Gyuri. It would have been easier for you if we had more money to do with. I am just mentioning this so whenever things look dark for you, dear, never despair, but look forward in hope like we hope for the better soon for us all. Hope you won't ever have to worry about money... Today you both played music for the PTA, it was very nice... [Joseph]
The younger Ehrlichs' debut as an instrumental duet came about because Mathilda belonged to the PTA, "and naturally we all talked about our children," so Martha and George's progress on piano and violin was well known. After PTA meetings the parents "always had social, coffee and cake and everybody brought something—and one meeting I brought the children." Together they played several of the Merry Widow Waltzes "and got a big ovation... lot of people for years after asked me about them, how they were getting along."
Joseph was proud of his children's musical prowess, particularly Martha's after six years of lessons, although he plaintively wrote: "If you would practice half as much as you read, it would be even better. I wonder if that will come true, Mártuka? that sometime you will say 'Thank you' to me for making you learn and to practice your music? I hope sometime you and Gyuri will even earn money with your music..." (Ever practical-minded, Joseph was always on the lookout for professional opportunities provided by a Well-Rounded-Out Education; Martha, for instance, would be able to find work as a pianist in a silent cinema.)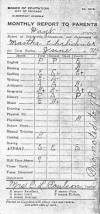 As she completed sixth grade Martha was her class's best speller but not so good in geography and history, "which I think is because you don't like them well enough to put your mind to them," wrote Joseph. "I could let you in on a secret, Mártuka: I was poor too in these two subjects when I was as young as you are now." Martha did like and do well in math, and even better at reading, both in school and out: one night Joseph had to take her book away because she was reading in bed at eleven o'clock. "You enjoy some of your books so much that you laugh right out loud and startle all of us. But other times I notice tears in your eyes, evidently the story was sad. But even now you like best the stories I could tell."
Joseph would regale his children with tales about the Three Boys: Pali, Sanyi, and Laci.* Their adventures got the Boys in and out of scrapes at such places as boarding school, the circus, and the North Pole:
For years I was telling stories about these three boys, making up their adventures as I went along. Both you and George were the happiest when I told these wonderful stories, even I enjoyed them. I usually sat in our large armchair, Gyurika on my lap, and you on the footstool facing us. We had countless sessions like these, and I was happy hearing your laughter ring out when the three boys did something funny. But sometimes you both cried when the story got a little sad. These stories have been going on for the last three years now, and at times I really have to put my thinking cap on so I could continue them. Other times I guess I fell back and mixed some of my early childhood that I vaguely recalled and told as a story. Mother was always there too, doing something else, but we all were together at home.

1931 Dec. 19. Today I took out your diary and browsed over the pages a bit. I think it is interesting enough even for a stranger. It seems it is my diary as well as yours. Since we are in the U.S.A. I have very little time for these sorts of things; I have to work very hard to make a living for all of us. But at least once a year I manage to sit down and chat with my girl. There wasn't much news to jot down this last year anyhow, you grew a lot and you are a healthy normal child, have a good appetite. I only wish George would have half as good.
You are in junior high school in seventh grade. An average student, although the few latest report cards show much improvement. The piano lessons are going on and improving all along; you will be able to play well enough for your enjoyment. Your most enjoyed recreation still is a good book, you just started on the Jack London series, and when you start reading you can't put it away till it's finished. You don't like housework at all, that's why I'd like to make a schoolteacher out of you, which seems a very good profession for a girl, and positively you show inclination to be a good teacher. You always loved to play school and you always chose to be the teacher, which pleases me a lot... Now you are both waiting for Christmas and naturally the gifts with it... [Joseph]
Christmas 1931 was the first big Christmas-for-kids that the Ehrlichs celebrated in America. Till then Martha and George had been given small gifts, toys or books or school things, but this year Martha asked for a typewriter and George (who still believed in Santa Claus) wanted a Lionel electric train; and their parents decided to buy both, "although I have no business to spend all that money when we are so short." Having as usual paid off all his various debts, Joseph had little cash left, but instead of making his children "partners" in the current hard times, he splurged all his few spare dollars on Martha and George. The gifts were exchanged on Christmas Eve, as was the family custom: Martha got her typewriter and was soon learning to type her schoolwork; George spent all his time playing with his electric train; and both children got "a couple of good books also." George was "a bookworm already, always reading and spelling out every thing, we never see him without a book in his hand."
As 1931 gave way to 1932, the Depression ground bitterly on. Things continued getting worse in Chicago, one of the hardest-hit American cities: wages dropped in economy drives, schoolteachers went without pay for months, rent payment sagged drastically and hundreds of families were evicted from their homes. In January 1932 Edmund Wilson visited old Jane Addams, still doing social work at Hull-House; she sent him to observe a Hooverville next to a garbage dump at 31st and Cicero. Wilson found that rules had been established so that each family would get a fair turn at the garbage when fresh dumps came in. Banks were collapsing nationwide, and by September less than a quarter of Chicago banks were still open; for years to come Joseph would not trust a bank, choosing to keep his money in the fur shop safe instead. The economic paralysis made life increasingly unpleasant and times unrelentingly hard.
Joseph had perhaps six hundred customers at his peak in 1930, but from then on his clientele was not to grow. A fur coat, because of its warmth, was still almost a necessity, and purchasing one was in fact a major investment intended to last fifteen, twenty, or even thirty years. Choice was based less on fashion than on durability: you might buy a muskrat coat, or a beaver coat if you could afford it, or better yet a seal coat—that was a good one; it would wear well. During the Depression, keeping coats in good condition was how Joseph and other small furriers were able to survive: they did not sell many new coats, but kept repairing and remodeling the old ones. Besides cleaning and storage, Joseph's bread-and-butter business would be fixing a rip in a coat, or replacing its buttons, or sometimes shortening or lengthening a coat to restyle it.
In 1932 the landlord of the Ehrlichs's shop at 1539 Devon announced he was doubling their rent. Joseph realized they could no longer maintain both an apartment and a store, so he made "a kind of primitive market analysis," looking at various areas in north Chicago, and deciding that one location down the street from the old store was of significance. The family moved shop and home to 1553 Devon Avenue: up a dark stairwell on the second floor of a building that faced the Ridge Theatre across Devon. It was just east of Clark, near two major streetcar line intersections and a large streetcar barn; there was a lot of traffic, but Joseph was looking for visibility. He pictured people coming out of the theatre and seeing the "Ehrlich Furs" sign in the upstairs window, or changing streetcars on Clark and seeing the other sign projecting from the building wall.
An existing second-story apartment was partially gutted and transformed: its living room became the fur store's showroom, looking out over Devon; the main bedroom and its closet became the workshop and storage vault. Joseph had his safes brought from the old store, hauled up on pulleys through the windows at 1553 and installed there. The workshop got a metal door with a grating, "but any thief could have broken in," George would remark; "it gave the semblance of massive security."

The dining room, behind curtained French doors, became the Ehrlichs's living room. The kitchen became the family's dining room; the refrigerator remained there, but the stove was moved into the pantry, which became the family's kitchen. Joseph and Mathilda slept in the back bedroom, and for a year or so George slept there too, in a youth bed; he later moved to a rollaway bed in the family's living room. Martha slept on another rollaway bed in what had been the kitchen, and after a couple of years would write: "I have to drop everything to help open my bed. I hope the darn bed caves in. I would rather sleep on the floor."
The apartment tended to be very crowded. From the kitchen/dining room one could go out onto a back porch which Joseph enclosed and used as an additional working area, especially for cleaning furs in a "drum." A wooden stairway led from the porch to ground level. Lake Michigan was only five blocks or so to the east, and up on the second story the Ehrlichs were able to get lake breezes.
Martha and George would grow up living at 1553 Devon, in a neighborhood where traditions stretching back to the 19th Century were still present: there was a blacksmith down the street, and icemen and greengrocers and ragpickers. The icemen and milkmen still got about on horsedrawn vehicles, while others went up and down the alleys carrying their apparatus on their backs, as Marcus Temmer had once delivered laundry. Several empty lots and abandoned excavations were nearby, since the Depression had ended all construction, but George was to say, "It was not a bad neighborhood to live in. [Although] it was not integrated, not racially, but ethnically it was; there were all kinds of people. It was not a bad place to grow up in..."
Joseph and Mathilda's fur business would remain at 1553 Devon for many years. As time went by they were fully aware their clientele was dwindling, particularly as central heating allowed cloth coats to predominate the market. Depression or no Depression, it was never an easy way to make money and the Ehrlichs always had to be very cautious about expenditures; Martha and George were brought up with frugality and both would make it a lifelong style of living.

Weeks would go by with no contact at all from customers, especially in the spring and summer. During a couple of these dry spells George helped his father make a canvas banner to hang under the showroom windows, saying (in the usual carefully-drawn block letters) SPECIAL—on cleaning or the like. Joseph would string out his work and take his time doing it, maybe spending two hours mending a coat, then reading the newspaper for the next three hours. Averaging it out, he probably worked no more than twenty hours a week; but he had to be "on call" all day in case the phone might ring, or the bell that sounded when the store door opened. Joseph could pretty accurately gauge just how well business was (or was not) doing by going into his "wault" and looking at how many fur coats were stored there, recalling the better times when all his racks had been filled.
Sometimes during Depression summers the only cash in the Ehrlich house came from Mathilda's work on her hemstitching machine. "Times were hard for everybody," she was to say:
Even though we paid twenty-five cents for a pound of butter and ten cents for a loaf of bread, also a quart of milk, it still was hard to live it through until Thanksgiving when the customers started to call or their fur coats. Then we had plenty of money to pay for all the materials we bought during the summer. Then about six months's rent we owed to our lovely landlady, Mrs. Haney, who trusted us each year... Fur business is, or was, funny. No one knows that better than the furrier's family. We had plenty of work all summer, but no one paid for it until they called for their coats... Boy oh boy were we happy then to see money after about six months of moneyless waiting. Soon as we got it, just as fast we started to pay our bills to everybody. But we were happy to do it and had big celebrations over the holidays.

Joseph had been terribly disappointed in America, but a decade after his and Mathilda's arrival they had established a business and a home and a life for their children that held as much promise as anyone on their particular plateau had in the 1930s. This accomplished, Joseph built himself a protective shell.
For entertainment he would go to the parks, enjoying the free Sunday concerts at the Grant Park bandshell; occasionally to the movies; or to the homes of relatives in Chicago and Racine. Unrelated Hungarians—friends of the Ruhigs or the Hoyers—were often included in the family group, and when everybody got together they played a great deal of cards. The women played gin rummy or canasta; the men (usually the foursome of Béla, Marcus, Hoyer, and Joseph) would play máriás, a Hungarian game much like pinochle, the cards being trumped with tremendous snapping flourishes.
Sometimes the Ehrlichs would accompany the Ruhigs to Hungarian-American picnics which featured Gypsy orchestras and Old Country dancing, but Joseph did not feel truly in his element there. Yet never in all his years in Chicago would he attempt to find his element, not even after the Depression when there was more leisure time and fewer financial worries. He never made it to night school, never got involved with clubs and organizations as did the outgoing Mathilda or Béla Ruhig. (In German ruhig means "quiet." but Béla was always "involved in these intense political discussions" about what was wrong with the system and how it should be corrected.)
Joseph never got over his dread of being perceived by the New World as a greenhorn, an ignorant unlettered "Hunkie." After being buffeted by adversity most of his life, he had found haven in the calmer waters of the routine and the comfortable. So (as Joseph saw it) what sense could there be in seeking out the unknown? In having to deal with further change? It was simply looking for trouble. So he no longer willingly ventured beyond the familiar circle of Family and Home. To his children in January 1931 he had written:
My ambition is to make you both love your home, and I try to do everything possible for you to like being at home always. I want you to remember how nice it was to be at home together. Don't forget my dears, your home is always open for you, and never will fail you. Think of your home as your church.

Proceed to Chapter 12 of To Be Honest
* Paw-lee, Shawn-yee, Lawt-see: diminutives of Pál, Sándor, and Ladislas.

Last updated August 22, 2009
Return to the TO BE HONEST Index Page

Return to the Skeeter Kitefly Website
Copyright © 1986, 2003-2009 by P. S. Ehrlich; All Rights Reserved.